Monticello Trails students' Skypes with experts expanded knowledge
Eighth-graders interview 24 scientists throughout school year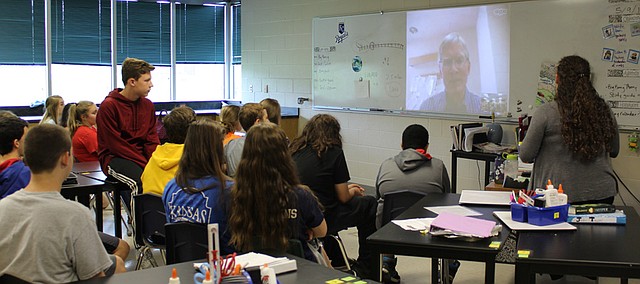 The students in Amy Hanna's eighth-grade science class quieted down quickly on Monday, old hat at the routine by now.
With a few clicks of a mouse, Clifford Thurber, professor of volcanology and geophysics at the University of Wisconsin-Madison, was on the whiteboard. After a quick introduction, the students' questions began.
"Have you ever worked at the New Madrid fault line?"
"What steps did you take to get where you are today in your job?"
"If you went to school and studied seismology, what different jobs could you get?"
"What's the biggest earthquake you have observed or recorded?"
The students Monday were finishing up their interviews with science experts via Skype for this school year at Monticello Trails Middle School. Both of Hanna's earth sciences classes have conducted six interviews per semester to interview a total of 24 science experts to expand upon what they have learned in the classroom, including everything from local meteorologists Bryan Busby and Gary Lezak to professors at Harvard and Princeton.
And all of the interviews have been set up not by Hanna, but by her students.
"I always tell them to go big or go home, so they always start with the Dean of Volcanology at Harvard," Hanna said. "There were only a couple of times we were pushed off to an assistant or something."
Hanna said she tells the students to find experts in a certain earth science topic, and the students usually come up with a list of about 10 possibilities. They then research each person before narrowing the list to four or five, who are sent email requests for a Skype interview.
"Usually multiple people think it's cool and want to do it," Hanna said.
Hanna said the students are responsible for all of the emailing, though she is copied on the emails to ensure they are appropriate.
She said one of the more interesting interviews was with a woman who lives in the Bahamas and is a photographer for the Discovery Channel, but she also has an organization that allows female science students to tag hammerhead sharks.
For their final interview with Thurber on Monday, students were able to hit two topics at once.
"We kind of talked about an array of earth sciences this year, but I like it that you have two different sciences going on to figure out problems with volcanoes," Hanna told Thurber.
Thurber explained that his job deals a lot with computer data rather than working at the site of earthquakes and volcanoes.
"Some of you may have heard about Mt. St. Helens kind of waking up a little bit recently with swarms of earthquakes," he said. "So the kind of work I do is related to studying swarms of earthquakes, and also trying to see if there's ways to see inside the earth (to look) at how things are changing that might tell us an eruption is coming."
The students asked him what tools he uses on a regular basis, and he said other than computers, used to analyze seismic date, he uses a lot of portable seismic instruments, which are buried in the ground to record seismic activity in three dimensions. With advancements in technology, he said they are now about the size of a coffee can and can run for a month on battery power.
They also discussed fracking and the differences between the seismic waves found in different areas of the United States.
The students were interested to know how to become a seismologist.
"Doing well in your undergraduate career, getting experience in physics, math, computer science, and geochemistry to study volcanoes, and then going to a good graduate school after that," he told them. "Starting now, math and science are the building blocks to do well in college."