SMNW

senior golfer Allen shows grit, gamesmanship despite disappointing finish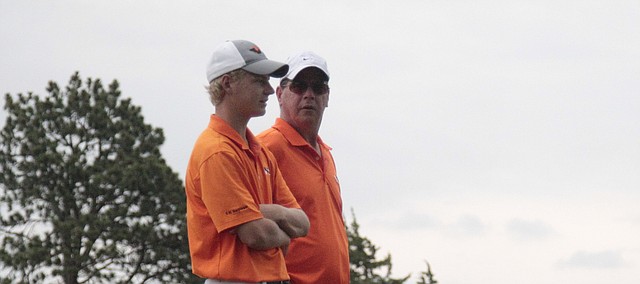 Manhattan — The game of golf can be glorious when everything is going right, but can be oh so cruel after a couple of bad swings.
Shawnee Mission Northwest senior Blake Allen experienced that firsthand at the Class 6A state tournament Monday at Manhattan Country Club. Allen was in a groove from the tee to the green for the first 15 holes, but he was not quite confident that being 1-under with three to play would be enough to win a state title.
The SM Northwest senior's gut feeling ended up being right, but at the time, he was still sitting pretty in a first-place tie with Washburn Rural sophomore Parker Beal.
After beginning his round on the 10th hole, Allen carded back-to-back birdies on holes No. 13 and 14 before making bogey on No. 15. Allen went on to shoot even-par for the next nine holes, but his dreams for a state title quickly turned into a nightmare.
The Washburn signee had hit five straight fairways on the second through sixth holes — all of which were par 4s — but Allen rolled the dice with an aggressive tee shot at the back-left pin location on the par-3 seventh and ended up finding a bunker behind the green.
As one of the more intelligent golfers — especially when it comes to shot selection — in the state, Allen admitted to me that he should have gone with the safe play of putting it on the right side of the green. The first of many bad breaks in the last three holes came with the condition of the sand trap. With the rain that had fallen for much of the tournament, the sand was thick — resulting in a difficult lie.
Since Allen is normally accurate in hitting greens, it's hard to say if he would have still made a solid chip and go on to save par, but I'd like his chances at getting up and down with dry sand. Instead, Allen need two shots to get out of the bunker and went on to two-putt for double bogey.
All good players are destined to have a bad hole here and there, and Allen knew that. The quick-thinking veteran also knew he had a great chance to make up for it on No. 8 — which was a short 461-yard par-5 he could reach in two shots.
Allen had plenty of distance on his tee shot and approach shot from the left rough, but he remained left of the green with a long chip ahead of him. His chip ended up still short by just less than 10 yards, but just like No. 7, he had a decent shot of saving par.
Then came an even more brutal break.
When Allen approached the ball for his fourth shot, it moved backward before he hit it — resulting in a stroke. The course official was not in a position to see Allen's ball from where he was standing, and the three other players in his group either didn't notice or speak up and say anything. Allen was the one who made it a point to tell the official about the ball moving.
With the funk Allen was starting to get in, he could have very easily not said anything. In technicality, that was Allen's shortest shot of the day and one that he'd most likely want to forget, but showing respect for the rules of the game in a crunch-time situation like that showed me why he's worthy of being in the discussion of best golfer in the state even though the final results didn't show it Monday.
Allen's next shot still came up short of the green, and he went on to three-put for a quadruple bogey. The SM Northwest senior then followed his heartbreaking eighth hole with a bogey on the ninth to go into the clubhouse with a round of 6-over, 76 — good for a tie for ninth place.
What bothered Allen even more than hurting his chances at an individual state title with his final three holes was that he knew his team could ill-afford for him to struggle. The Cougars had plenty of confidence going into Monday after winning four tournaments on the season — one of which came on April 11 at Manhattan CC.
Allen obliged to an interview with me shortly after walking off the ninth green, and he was unsure of what the team standings would be at that point. He and I both knew that the team's state championship aspirations were slim after he fell down the leaderboard, but I was curious to hear his thoughts on his frustrating finish, his round as a whole and how he felt the season went despite not meeting his expectations at state.
I had a hunch on what most of his answers would be regarding his overall round, but his response on the season as a whole really stuck out to me.
"It was a great season. We won the Sunflower League, which was the first time in 24 years," Allen said before pausing and being moved to tears. "I know that made my coach (Jim Bamburg) like super, super happy. It was the first league he had ever won."
Watching Allen tear up was in no intention my goal when asking the question about his senior season, but listening to him share how much he cared about Bamburg was some of the rawest emotion I've heard from an athlete on any level.
The fourth-place team finish for the Cougars was the best in Allen's four years with the program, but he is well-aware of SM Northwest's history at the state tournament with his brother Colton and Garret preceding him. It was the fifth time the Cougars have finished fourth at state under Bamburg.
The Cougars missed out on a third-place team plaque to Blue Valley North by one stroke. Allen also experienced a couple of one-stroke individual losses in his senior campaign, but Bamburg made sure to let his senior leader know that the team grew a lot from those second-place finishes.
"He's missed winning a couple of tournaments just by one stroke. His teammate, Christian (Ghilardi), beat him a couple of times just barely and he was upset," Bamburg said. "He was happy for his teammate, but upset with himself. He's said, 'Just one stroke. It's the story of my year.'
Bamburg added, "I've just talked to him about, 'Hey, you're the one that they're trying to beat. You're the one that set the bar so high. It's a good thing that you're the one making them play better by trying to reach your level.' We're going to miss him. He's one of those kids that you can't replace."
Allen was able to make some small amends for his last three holes in regulation when he returned to the course for a six-person playoff to break a tie for ninth place. The tiebreaker did have some significance to it since the top 10 golfers are named all-state selections.
Allen birdied the second playoff to take ninth, and join Ghilardi — who placed eighth — on the 6A all-state team. With Ghilardi only being a sophomore, and freshman Joe Bultman narrowly missing out on the top 10 after placing 11th, Allen knows that SM Northwest golf still has a promising future.
"They've got two really good players coming back; two guys that can improve a lot over the summer and contribute and maybe they can have a freshman come in that surprise them, but hopefully they keep playing," Allen said. "I know those two well. They love the game, and they're extreme competitors."
While Allen will head to Washburn to play with Garret — who will be a senior for the Ichabods — Ghilardi and Bultman both said they wouldn't have been as successful as they were this season without the leadership from the standout senior.
"He has a lot of great advice, especially with being older," Bultman said. "I can learn from him since he has more experience in the game. He knows certain ways to play holes and how to hit shots and stuff, so I can gather that from him."
More like this story