Man critically injured in early morning crash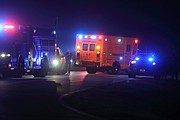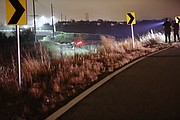 Shawnee Police are investigating after a single car crash critically injured a man early Thursday morning.
Officers were dispatched to the area of Hedge Lane Terrace and Clear Creek Parkway just after 5 a.m. on a report of a car off the road.
Major Dan Tennis of the Shawnee Police Department says the driver of the vehicle is a 40-year-old man. Police believe he is a Shawnee resident, but are still working to contact the man's family.
"When the road curved he went straight into a field and his vehicle turned on its side when he hit a ditch," Tennis said. "Luckily a jogger saw the vehicle early this A.M. about 5:00 and called 911."
Tennis says the responding officer estimated the vehicle was about two football fields off of the road.
"When officers arrived the man was found bleeding and unconscious," Tennis said.
Johnson County Med-Act reported the man to be in critical condition. He was transported to an area hospital for treatment.
The Shawnee Police Department's Traffic Safety Unit is investigating the crash.
---
Operation 100 News provides overnight news coverage for the Shawnee Dispatch. Follow on Twitter for real-time updates.
More like this story