Last-second field goal lifts
SM

North football over Lawrence High, 52-49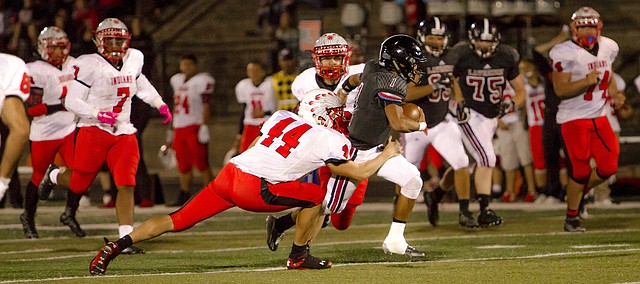 Lawrence — After suffering a season-ending loss to Lawrence High last year, Shawnee Mission North kicker Oscar Aguilar helped the Indians return the favor Friday, as he booted a 26-yard field goal to send his squad past the Lions, 52-49, in the second round of the Class 6A playoffs.
The Indians (No. 6 in the 6A East bracket) trailed by eight points with just under four minutes to play, but senior quarterback Will Schneider and the SM North quick-striking offense did waste any time in erasing the deficit. The No. 3-seeded Lions had taking a 49-41 advantage after an Angel Garcia 1-yard TD run, but Schneider answered on the first play of the Indians' ensuing drive with an 80-yard touchdown pass to sophomore wideout Noah Laird to pull SM North within two.
SM North head coach Ben Bartlett elected to go for the 2-point conversion after the Indians had came up empty on the same gamble on the previous scoring drive. Senior running back Marcos Garcia backed his coach by rumbling into the end zone to tie it up.
"I was confident that we could get that 2-point (conversion). I wanted to put a little pressure on them, and obviously when you don't make that, you get questioned," Bartlett told Bobby Nightengale of the Lawrence Journal-World. "We got a little cute with it, so we went for two again and we just stuck to our guns and what had been working for us. Marcos came up with a huge run like he had all night, and got that 2-point conversion back and we were right back in it."
Injuries hampered Garcia for the Indians' postseason loss to the Lions last year, and SM North's 52-26 setback to Lawrence High in Week 2. The SM North senior made up for lost time by rushing for 115 yards and two touchdowns on 29 carries Friday.
"The first time we played Lawrence, Marcos had a hamstring injury. He couldn't play," Bartlett said. "We played these guys Week 10 last year and Marcos had a deep thigh bruise and couldn't play the second half. So for him to stay healthy and finally get the whole game in, I'm so happy for him."
While Garcia paced the Indians on the ground, Schneider and Laird lit it up through the air. Laird hauled in eight receptions for 219 yards and two scores, but he had plenty of help from his fellow receivers. Billy Conaway caught six balls for 123 yards and a score, and Avante Williams added three receptions for 43 yards and a touchdown. Altogether, Schneider completed 17 of 35 for 385 yards, while tossing the four touchdowns and two interceptions. The SM North senior also scored on a QB sneak for the Indians' first touchdown of the fourth quarter.
"Our seniors have been working hard together since their freshmen year," Bartlett said. "Will is definitely a huge part of that being the quarterback and Danny Presler, Spencer DuBois and Marcos turned up huge tonight."
Despite the Indians' high-octane offense clicking on all cylinders, SM North trailed or was tied with Lawrence High for the better part of three quarters prior to Aguilar's game-winner. Bartlett believed 100 percent Aguilar — who scored on a free kick in the SM North soccer team's 6-1 loss to Lawrence High — to come through with the game on the line.
"I had no doubt. When they froze him, it didn't bother me because Oscar is a soccer kid up until this year so he didn't know what that means," Bartlett said. "He was confident."
The victory clinched a regional championship for the Indians, who improved to 6-4 on the season. The last time the Indians had a winning season was 2002. The Indians concluded the 2002 campaign with a record of 6-4.
"I'm so proud of them. High schoolers can really get down sometimes when that scoreboard isn't in their favor," Bartlett said. "It takes a mental toll on them. They are not developed fully mentally yet."
Bartlett added, "As much as we've been trying to train these guys physically to get ready to win football games, we've been trying to help them mentally understand that they're never out of it if they can stay together as a team and believe. That's what winning teams are able to do, and we haven't been there for a while."
While the Indians ended the Lions' season, they earned the full respect from Aguilar's kicking counterpart Cole Brungardt. The Lawrence High kicker reached out to Schneider and the Indians on Twitter after the game, and wished them the best in their quarterfinal matchup against SM East.
"At the end of the night, that game was very fun to be apart of. I have a lot of respect for SMN & @willschneider02, best of luck! #BeatEast," Brungardt tweeted.
The Indians have won four out of their last five since suffering a 77-26 loss to the Lancers on Sept. 30. The No. 2-seeded Lancers (9-1) survived a scare from Gardner-Edgerton to set up the quarterfinal showdown with the Indians, as they edged the Trailblazers, 36-35, after converting a 2-point conversion with 33 seconds left.
The Indians and Lancers will play at 7 p.m. Friday at SM North. The winner will play the victor of Blue Valley (10-0) and BV North (7-3).
More like this story