Showing sisterly love
Shawnee officials travel to Germany, Belgium in effort to strengthen sister city ties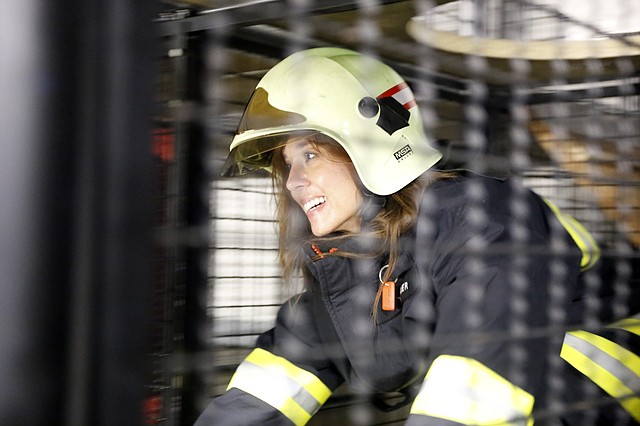 Halfway around the world, fluttering in the wind outside Erfurt's city hall, is the Shawnee flag.
The familiar sight greeted several Shawnee officials who visited the bustling German city last month during a two-week sister city tour in Europe.
The flag served as a prominent visual reminder of the special relationship the two cities have shared for more than two decades.
Ever since Erfurt and Shawnee became sister cities in 1993, representatives from both cities have flown across the ocean to visit around every other year.
The visits have culminated in friendships among both city's elected officials, residents, firemen, and police officers.
In October, a handful of Shawnee representatives flew to Erfurt. They included Mayor Michelle Distler and her family; Councilman Brandon Kenig; Sister City Committee chairman Dennis Busby; and former Shawnee mayor and current Johnson County Commissioner Jim Allen.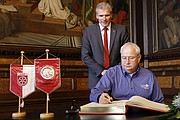 The trip was not funded with city money. Each individual paid for their airfare, accommodations, and meals out of pocket.
"Being able to go halfway around the world and see a piece of Shawnee when you get there really brings this relationship home," said Kenig, referring to the Shawnee flag hanging in Erfurt. "You realize we're really not that far apart. Our bond is alive and well every day."
While in Erfurt, the group spent five days touring the large city and getting to know the locals.
They toured the city's technical college, visited a fire station, and enjoyed dinners with Erfurt city officials.
During a welcome ceremony, they were even invited to sign the city's golden book, which also bears the signatures of Pope Benedict XVI and the Dalai Lama.
The entire trip was the experience of a lifetime, Distler told the Dispatch.
"They treated us like royalty and we had the opportunity to do and see things that an average tourist doesn't get to experience and it was amazing," she said. "One thing I will never forget? The cow bells. All of their cows and sheep wear bells around their necks and I stood out in the rain just mesmerized by the beautiful sound that it makes."
She was also fascinated by the city's historical architecture.
Erfurt boasts buildings dating as far back to the 12th century.
"One of their biggest challenges is to maintain and preserve those buildings, which is something they have to budget for," said Kenig. "And just looking around the city, you can tell they've done a phenomenal job."
After five days in Erfurt, the group traveled to Pittem, Belgium, another sister city of Shawnee.
They were struck by the prevalence of World War I history throughout the area, with historical markers, monuments, and memorials dedicated to fallen soldiers.
Distler's 11-year-old daughter, Jeydan, even brought home a shell casing and top of a detonated bomb from World War I.
"There is a winery in Belgium that is full of shrapnel everywhere," Distler said.
In both cities, the group enjoyed learning about the differences in government practices and immersing themselves in the German and Belgian cultures.
They also enjoyed the food.
In Germany, they stuffed themselves with local sausage, schnitzel, and pumpkin soup.
In Belgium, they savored authentic Belgian waffles and bitterballen, a Dutch meat snack.
Perhaps the most eye-opening lesson of all, however, was that in the end, both cities weren't much different than Shawnee.
"We're separated by an ocean, but we encounter the same issues," Kenig said. "As cities, we're trying to be responsive to residents, strengthen public safety, and figure out ways to fund so many services on a limited budget."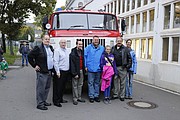 And their friends in Germany and Belgium were very much on top of U.S. news.
"Americans would be absolutely shocked to know how knowledgeable the European community is about our election," said Busby, who has worked with Shawnee's Sister City Committee for nearly 15 years. "All of us were constantly asked who we were going to vote for. It's incredible how in tune and up on the news they are."
The trip to Europe was more than just about the sister city program, however, it was about celebrating Shawnee's roots.
The town was founded by German and Belgian farmers more than a century ago.
Plus, around 40 percent of people in Kansas can trace some of their ancestry back to Germany, pointed out Busby, who is also president of the Shawnee German-American club.
Erfurt and Pittem are not the only sister cities for Shawnee, however.
In 1985, it became sister cities with Listowel, Ireland.
For the past 30 years, visitors from Listowel have been guests of honor each year at Shawnee's St. Patrick's Day parade and after-parade festivities.
Shawnee even has three parks dedicated to each of its sister cities.
The recently opened Erfurt Park sits in western Shawnee, Listowel Park sits near 71st and Quivira, and West Flanders Park, named after a Belgian province, sits near 55th Street and Nieman Road.
The hope for all cities, is that future generations will preserve the sisterhoods as the years go by.
"I have not only made new amazing friends whom I cannot wait for them to come visit Shawnee, but it is very important to have these type of international relationships, cultural understandings, and keep lines of communication open with the rest of the world," said Distler. "I am very excited to see them all again and share some of the many things I love about Shawnee."