Bella's brother(s): Special fan sparks special title run for St. James soccer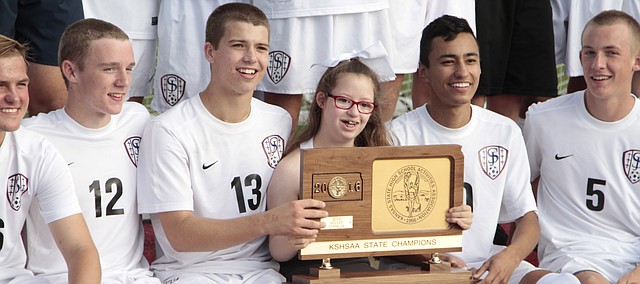 St. James Academy sophomore Bella DeBrevi could not have asked for much better of a weekend while watching her brother, Alessandro DeBrevi, and the Thunder soccer team at the Class 5A state tournament Nov. 4-5 in Emporia.
Bella, who was born with Down syndrome, kept the team's spirits up throughout the season as a Thunder cheerleader, and got to celebrate her 16th birthday Nov. 4 by taking in St. James' 2-0 win over Bishop Carroll in the state semifinals.
Her best present came a day later, though, when she got to hold the state championship plaque following the Thunder's 3-1 win over Blue Valley Southwest.
"I know it's meant more to her than anyone else," Alessandro said. "It's so special."
Alessandro's high school career was capped off with the state title match victory. While Bella was happy to watch her older brother go out with a bang in his last time wearing a Thunder uniform, she said that she wished that Alessandro's time on the St. James soccer team wasn't coming to an end.
"He's a great guy," Bella said. "He's an amazing brother, and I'm going to miss him."
The bond between Bella and Alessandro was visible every time that the St. James senior forward took the pitch in his No. 21 jersey.
"She has Down syndrome, and that's the third copy of the 21st chromosome. That's why I wore 21 for her," Alessandro said of his jersey number. "I'm always playing for her."
Having Down syndrome has not kept Bella from doing what she loves. Bella's exuberance has been on display in her performances with Christian Youth Theater program in Kansas City, Mo. The St. James sophomore has acted in CYT plays since the third grade. Between her roles in plays and cheerleading for the Thunder, Bella has put a smile on numerous faces while growing up. Being on the cheerleading squad has been one of the highlights for Bella at St. James, especially when she gets to root Alessandro at soccer games.
"I get to cheer them on," Bella said. "When they score, it's an awesome day."
Bella's role during the St. James soccer team's title run was not just limited to cheerleading.
"At the first playoff game, she said the prayer to start the game, and then we had her do it for every single game. I feel like she's a really important part of all of our lives," St. James soccer manager Owen Tenbrink said. "Sandro is a really close friend of mine, and that's his little sister. She's been a really important part of this journey for us."
Tenbrink and Bella DeBrevi have both credited the St. James soccer team for being a big part in helping them cope with their respective conditions. Tenbrink was diagnosed in sixth grade with Crohn's disease — which creates inflammation of the lining of the digestive tract. The St. James senior played baseball his freshman year, but Tenbrink's favorite athletic memories have been during his two years as the St. James soccer manager.
"This team was really important to me. I have a lot of really close friends on this team," Tenbrink said. "I felt like this year obviously with the state championship, we've all grown together as men. We've grown really close."
While the Thunder were able to give Bella a special Sweet 16 weekend, they also made sure to recognize Tenbrink for his efforts as their manager. Tenbrink suited up for senior night against Blue Valley, and got about 20 minutes of playing time.
Tenbrink wore No. 22, and while he didn't find the back of the net in St. James' 1-0 loss to Blue Valley, the player who took that jersey in the following matches went on a scoring tear. St. James junior Sam Enna lost his No. 11 jersey — the same number that his older brother, Steven Enna, wore before taking his talents to Drake — so he borrowed Tenbrink's No. 22. Enna scored two goals apiece against De Soto in the regional final and Harmon in the quarterfinals to lead the Thunder to the state tournament.
"We were giving him a lot of crap for it because we were saying it was my jersey that was giving him all of the goals," Tenbrink said. "It was a pretty cool."
The Thunder struggled on the way to a 3-7-3 start to the season, but Tenbrink felt that the team bond they built from off-the-pitch situations like his and Bella's helped them dig deep to win seven of their last eight matches.
"I think it makes it closer," Tenbrink said. "It almost makes it more important."
Alessandro echoed Tenbrink's testaments after the championship match, as he was surrounded by his teammates, family and a large portion of the St. James student body.
"Man, it's awesome," Alessandro said. "With all of my best friends for four years, it's a great way to finish it. It's so special."
While Alessandro's high school soccer career is now over, he knows the Thunder will be in good hands under coach Rick Enna, and that the Thunder will still have the full support of their biggest fan.
"She's praying before games, getting us pumped up," Alessandro said of Bella. "She's the life and spirit of the team. We couldn't have made it this far without her."