In Kris Kobach, an immigration hard-liner is joining Donald Trump's transition team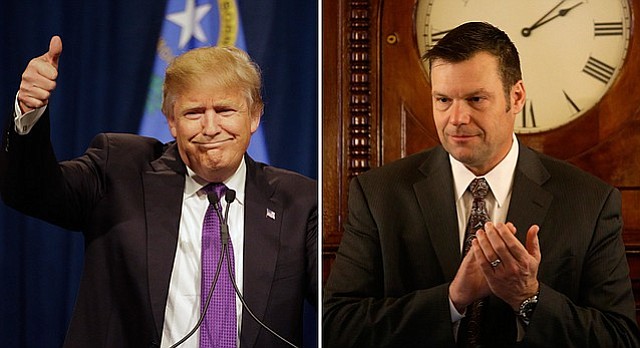 One of the architects of several of the nation's most controversial immigration laws is set to join President-elect Donald Trump's immigration policy transition team.
Kansas Secretary of State Kris Kobach said Thursday that he planned to help Trump reverse President Barack Obama's immigration policies.
"There's going to be a lot to do there in part because Mr. Trump and Mr. Obama are diametric opposites when it comes to immigration policy, so there will be a lot of changes," Kobach told a Kansas television station.
Noting Trump's central campaign pledge to build a southern border wall and emboldened by Republicans retaining control of Congress, Kobach said that "there's no question the wall is going to get built. The only question is how quickly will it get done and who pays for it."
Trump, who met with Obama at the White House on Thursday, has also vowed to overturn many of the president's executive actions on immigration, such as Deferred Action for Childhood Arrivals that temporarily shields from deportation people who were brought to the U.S. illegally as children.
In 2010, Kobach helped to craft Arizona's SB-1070, which contained four major elements aimed at reducing the number of immigrants in the state illegally through attrition. It compelled police to ask for papers and allowed officers to make arrests without warrants if they believed the suspect committed an offense that made them eligible for deportation.
Critics assailed SB-1070 as racial profiling, and the Supreme Court struck down much of the law in 2012, although it upheld the part allowing police to check immigration statuses. In September, Arizona ended its practice of requiring police officers to demand the papers of people suspected of being in the country illegally as part of a settlement with immigrant rights groups.
Kobach has also had a hand in other controversial immigration laws. He helped write an Alabama measure in 2011 that mandates that police who suspect someone is in the country illegally can work to determine that person's legal status. Critics have called it tougher than the Arizona law.
Kobach also helped local officials in Hazelton, Pa., draft a 2006 ordinance that banned landlords from renting to people in the country illegally. The ordinance, which was never implemented, faced strong pushback and several legal challenges by the American Civil Liberties Union. Last year, the rural town was ordered to pay nearly $2 million in legal and court fees to the ACLU.
California Secretary of State Alex Padilla said it was deeply troubling that Kobach was joining Trump's transition team.
"His participation is a threat to diverse communities throughout our nation. Kobach's pattern of supporting racist, anti-immigrant policies … are not only divisive, but have repeatedly been found unconstitutional," he said. "Mr. Trump's selection of Kobach is in direct conflict with his stated desire to bring America together."
More like this story