Five area football players named to
EKL

,

SFL

first team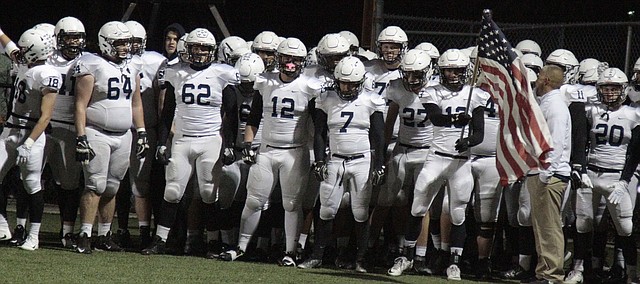 Five area football players earned all-league first team honors for their respective performances during the regular season.
Mill Valley left tackle Keegan Zars and Jaguars safety Joel Donn were named as all-Eastern Kansas League first team selections along with St. James Academy defensive end Travis Pickert.
Zars has helped pave the way for Mill Valley running back Cameron Young — a second-team selection — to run for 1,493 yards going into Saturday's Class 5A state title game against Goddard. Donn has set the tone for the defense with 177 tackles and two interceptions.
Pickert was the EKL sack leader with 12, and was also an honorable mention as a tight end.
Shawnee Mission North senior quarterback Will Schneider and Indians two-way lineman Danny Presler were picked to the all-Sunflower League first team. Schneider threw for 3,035 yards and 31 touchdowns in his senior campaign.
Several area players were named as all-second team league performers as well.
For Mill Valley, quarterback Brody Flaming, Young, wide receiver Ben Hartman and defensive lineman Blaine Boudreaux were named to the all-EKL second team. St. James lineman Nick Kalny was the lone Thunder player tabbed as a second-team selection.
Four SM North players were picked to the all-Sunflower League second team in defensive back Avante Williams, wide receiver Billy Conaway, offensive lineman David Curtis and running back Marcos Garcia.
The following players were selected as honorable mentions: SM North — Donnie Calkins (OL), Jamir Crawford (LB), Mitchell Wilkey (OL), Nate McCoy (WR), Noah Laird (WR), Oscar Aguilar (K), Reese Sila (RB), Ta'Morese Morgan (OL), Talbot Ebberts (OL), Tanner Willmon (LB), Zach Pittman (WR) and Trevon Kleint (WR); SM Northwest — Baqurious Stokes (DB), Hayden Goodpaster (WR), Spencer Stewart (QB) and Xavier Perry (RB); Mill Valley — Logan Talley (WR), Mitchell Grissom (OL), Alec Derritt (OL), Payton Marlow (TE), Ike Valencia (DL), DJ Graviette (DL), Dylan Smith (LB), Cole Ivey (DB), Brady Garrison (DL), Evan Rice (WR); St. James — Conor Mehrer (OL), Sammy Wheeler (QB), Pickert (TE), Connor Mayfield (OL), Nick Farnsworth (DL), Dominic Stean (LB), Bryce Steffens (LB), Cole Barrett (LB), Clay Lautt (DB) and Zac Storm (DB).