Mill Valley football charges into state title game against Goddard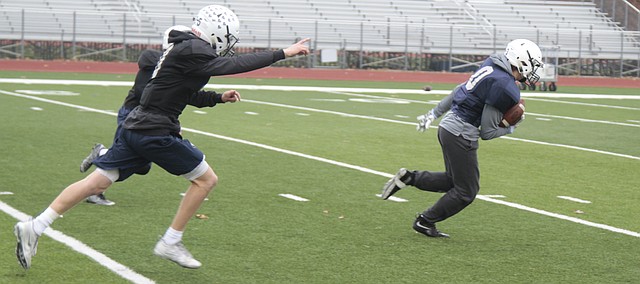 The Mill Valley football team made history last season by winning the school's first state championship with a 35-14 victory over Bishop Carroll.
While the Jaguars have reflected on that experience throughout the 2016 campaign, their mindset has shifted from making history to starting a tradition as they head back to the Class 5A state title game Saturday against Goddard at Pittsburg State's Carnie Smith Stadium.
"They've had a lot of energy this week in practice," Mill Valley coach Joel Applebee said. "Again, they're very, very excited about where they're at. They now that Goddard is going to be a great challenge, but at the same time, they're excited about that challenge."
The Jaguars (8-4) pushed their winning streak to five games after Friday's 14-13 sub-state victory over St. Thomas Aquinas, and they'll see another dual-threat quarterback for the second straight week.
Goddard quarterback Blake Sullivan has thrown for 1,550 yards, and has tossed 27 touchdowns to just five interceptions. Sullivan has also rushed for 1,254 yards and 15 scores.
"He is a very good quarterback. He does a lot of good things in the run game, a lot of good things in the pass game," Applebee said. "We're doing a good job of preparing for both. He's definitely a threat that we have to consider."
Something will have to give on Saturday with the matchup between Sullivan and the Mill Valley defense. While Sullivan has avoided turning the ball over, the Mill Valley secondary has had a nose for the football during the playoffs.
The Jaguars recovered four fumbles against Aquinas, and came up with another turnover on a Tanner Moore interception — his third in as many weeks.
"We're just doing our jobs really," Moore said. "The three picks, I've just been in the right spot just doing my job really. We've all relied on each other, and if you've got 11 guys doing the right thing, good things happen."
Moore and the Jaguars defense will also focus on containing Goddard running back Kody Gonzales, who has racked up 1,672 yards and 16 touchdowns to pace the Lions' running game. The sophomore safety feels like some of the running backs that the Jaguars have seen in the Eastern Kansas League will help prepare them for how to bottle up Gonzales.
"The Blue Valley Southwest backs are kind of similar to him in size and speed," Moore said. "I think we did pretty well against them."
While the Jaguars have limited their opponents to 12.75 points per game in the playoffs, the Goddard defense has been stout as well. The Lions (11-1) have won 10 straight games since suffering a Week 2 lightning-shortened game to Derby — who is playing for the 6A state title against Blue Valley. Goddard gave up 35 points in the first half against Derby, but have held each of their opponents to 21 points or less since.
The Goddard secondary has a few ballhawks of its own, including junior Ian Mcswain — who has seven interceptions. Mill Valley senior Ben Hartman is looking forward to the matchup against Goddard's unique defensive scheme.
"We just have to compete every play. They run their 3-3," Hartman said. "I know those guys are really competitive, but hopefully we can air out the ball a little bit and work on our fundamentals this whole week and prepare for what they run."
Mill Valley junior quarterback Brody Flaming was held in check last week against Aquinas with just four completions for 32 yards and a touchdown and 69 yards and a score on the ground, but Hartman believes the Jaguars dual-threat QB will have no problem going stride for stride against Sullivan and the Goddard offense.
"He'll be ready. He's been going against a lot of great competition this whole year, and the EKL has really helped him out and prepare. He just has to treat it like it's any other game," Hartman said. "The receivers will calm him down and so will the coaches. He'll probably get fired up at the beginning, but he'll be ready. He's been doing great this whole week, and he'll continue that."
Mill Valley and Goddard will square off at 1 p.m. Saturday in Pittsburg, and Applebee is looking forward to what he believes will be another strong showing from the Jaguars fan base.
"We're excited for the community again. This community is awesome," Applebee said. "They support this team so well. We're very, very excited for the community and the school, and to get down there and really showcase Mill Valley."
More like this story