Shawnee celebrates Small Business Saturday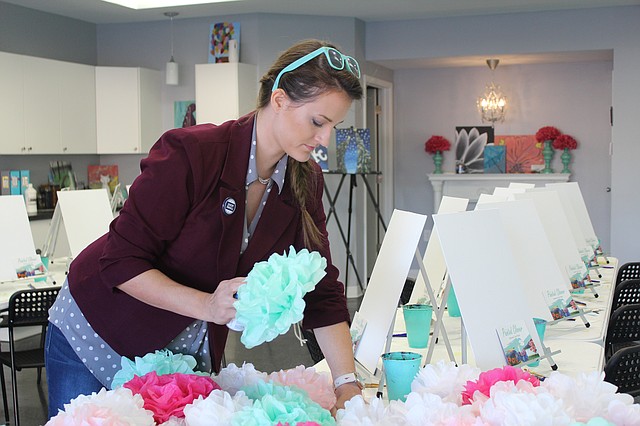 Most shoppers know about Black Friday and Cyber Monday.
But across the country, there's another post-Thanksgiving retail experience gaining steam.
It's called Small Business Saturday.
The promotional day, being held this weekend, encourages residents to spend their dollars at small shops, services, and restaurants.
In Shawnee, any business with 25 or fewer employees qualifies in the category.
"During the holidays, there is a big push for people to shop at the big box stores and we forget it's important to support small businesses as well," said Linda Leeper, president and CEO of the Shawnee Chamber of Commerce, which is hosting the city's event.
Small Business Saturday was launched by American Express in 2010 as a way to help small and local businesses thrive during the holiday shopping season.
The Shawnee Chamber of Commerce has promoted it in the city for the past three years.
This year, there are 54 small businesses participating so far. Many of them are offering special deals.
On its website, the chamber features a printable passport containing the participating businesses. Not only does the passport showcase which shops and restaurants are offering special deals, but it serves as a competition as well.
Shoppers are encouraged to fill their passport with stamps from five participating businesses. The first person to bring that passport, with five business stamps on it, to the chamber office, 15100 West 67th Street, Suite 202, at 9 a.m. on Monday will win a $50 gift card.
Shoppers are also encouraged to take selfies and post them on social media, using the hashtags #shopsmallShawnee and #shopsmallselfie.
Over at Painted Clover, a hip paint and sip studio in downtown Shawnee, owner Christa Klover plans to make the day a fun one.
It will be Klover's first time participating in Small Business Saturday, since she opened her art studio in July.
Last week, she spent her afternoons decorating her studio with Small Business Saturday promotional materials and she even created a "selfie wall" for shoppers.
"I'm excited because this is a great way to get the word out about our business," Klover told the Dispatch. "Our hours are based on classes, so this allows people to poke in and see what we're all about."
On Small Business Saturday, she's offering $10 off painting classes, plus all her December classes are $5 off as well.
Gift cards are also available for purchase.
"It's a great gift for a mother or a daughter or even to give as a date night," Klover said. "Our classes are a bonding experience because you're creating a tangible memory together, which you get to take home."
Over at By B! Boutique, owner Beata Foreman also wants to make the day a fun shopping experience.
She will be offering shoppers Starbucks coffee and other refreshments.
Her boutique will also offer door prizes, surprise in-store specials, and a free gift with a $50 purchase.
"We try to make it fun because this is our way of thanking customers for supporting local businesses," she said. "Last year we had a great turnout and we hope to continue that momentum."
Foreman added that she thinks the passport is a cool idea because it will allow shoppers the opportunity to explore small stores they might not have known existed.
Mark Hembrey, the manager of Hereford House in Shawnee, agrees with the sentiment.
After all, it's easy for small businesses and restaurants to get lost in the holiday shuffle, he pointed out.
Hereford House in Shawnee is offering hungry shoppers a $6 burger and fries deal on Small Business Saturday.
He hopes it will draw business during an otherwise lackluster holiday weekend.
"Everybody goes out for Black Friday and the little guy gets forgotten, especially restaurants because everyone has so much turkey and gravy leftover," he said. "It's important for people to remember that small businesses are what this country is all about."
To print the passport or learn more about Small Business Saturday, visit www.shawneekschamber.com.