Future bright for
SMNW

wrestling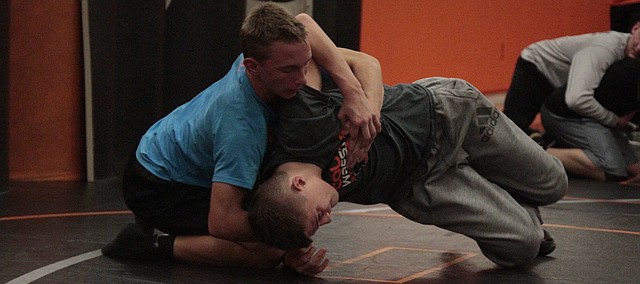 The numbers are down a little bit this season for the Shawnee Mission Northwest wrestling team, but the wrestlers that have been at practice for the first week and a half have wasted little time getting to work.
"They're excited," SM Northwest coach Howard Newcombe said. "I'm trying to get mats taped down and cleaned, and they're all wanting to get out there and start wrestling already. They'd rather be wrestling than doing anything else all week."
Despite not having quite as much depth as last season, the Cougars have several key pieces back in their varsity lineup — including state qualifiers Jerad Habben, Charles Brockmann and Devonte Smith.
While Brockmann and Smith both spent the majority of the offseason with Bo Black's football team, Habben remained on the mat. Habben — who took fourth at state last season in the 106-pound weight class — posted an 11-1 record at the Mid-summer Mat Bash National Dual Tournament in July in Texas. Nine of Habben's victories were by fall.
The SM Northwest junior is moving up two weight classes this season from 106 to 120 pounds. Habben wrestled at 120 pounds for the first time at Fall Brawl at Staley High School (Mo.) in October. The tournament did not go as well as Habben had hoped, but he feels confident about the move up going into the season.
"They're a lot bigger, but I'm a lot bigger also," Habben said. "I'm cutting not as much as last year. I hope I can stay consistent throughout the whole season."
One of the other reasons Habben is excited for the season is to be able to wrestle against Brockmann again in the practice room. Brockmann is remaining at the 113-pound weight class, and he's looking to build off of his freshman campaign — which saw him go 2-2 at the state tournament.
"I don't think I'll be as nervous and stuff because I'll know what it's all been like before," Brockmann said. "I'm just trying to place this year."
Also going 2-2 at state last season was Smith, who will be moving up for the 138 to 145-pound weight class. Smith said that the experience of competing at state gave him a good gauge of what his goals should be for this season.
"It helped me in the sense of that I know where to go," Smith said. "I know where I want to be and how fun state is. Competing at the highest level that I can is fun, and I want to be back there."
Although Newcombe's squad is still thin at the heavier weights, the Cougar lineup will still have some depth at the lower classes. Filling the void of Habben at 106 will likely be Dominique Brooks or Gabe Arreguin.
"That should be a good battle," Newcombe said.
While Brooks has the edge in experience over Arreguin with having wrestled at the JV level for the past couple of seasons, but the latter gives Habben plenty of hope for the future of the program with just being a freshman. Habben's hopes are also high for the next few seasons with the recent success of the Cougar Kids wrestling club, which has won back-to-back district championships.
"It's good because after I leave, I'm pretty sure my little brother is coming here. It's good that he's going to have a team that supports him."
Jordan Habben, a seventh grader at Trailridge, is following in the footsteps of his older brother.
"He's a three-time state champ," Jerad Habben said. "He's good. He went undefeated at Trailridge."
Northwest will begin its season Dec. 2-3 at the Pleasant Hill (Mo.) tournament.
More like this story