Twice as nice: Mill Valley edges Goddard in double
OT

for second straight title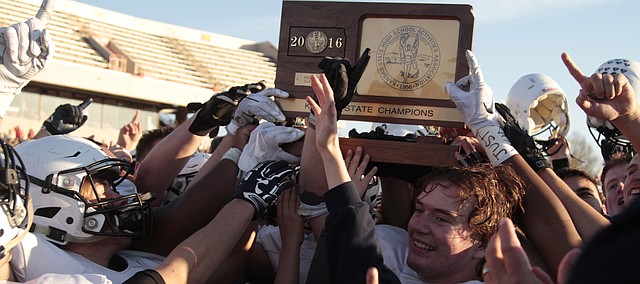 Pittsburg — Mill Valley sophomore kicker Jack Matchette was given a second chance in the Jaguars' 35-34 double overtime victory over Goddard in the Class 5A state title game Saturday, and that's all he could have asked for as he drilled the game-winning PAT through the uprights at Pitt State's Carnie Smith Stadium.
Matchette — who wrapped up his first season as the Jaguars' kicker — missed a 27-yard field goal in overtime just a few minutes before drilling the game-winning extra point. All that Goddard needed after the Matchette miss was a field goal on its OT possession to win the state title, but Lions running back Kody Gonzalez fumbled the ball when he reached for the goal line from the half-yard line on third down. Senior Jack Eber recovered it to give the Jaguars new life.
Eber also recovered a fumble inside the 10-yard line with less than two minutes remaining in the Jaguars' sub-state win over St. Thomas Aquinas, and felt fortunate that lightning struck twice for him.
"It's just being in the right place at the right time," Eber said. "It hasn't really soaked in yet, but it's an amazing feeling."
Gonzalez, who goes by the nickname of "Chu Chu Train," rushed for 194 yards and two touchdowns before the fumble. Smith said that the defense had one thing in mind going into the goal-line stand.
"Just stop Chu Chu," Smith said.
Goddard bounced back with a touchdown pass from Blake Sullivan to Jordan Cooke to begin the second OT before Lions kicker Cole Gentry had some misfortune of his own. Gentry's PAT clanked off the upright, but he, too, got a second chance following a roughing the kicker penalty. The Goddard kicker was not as lucky as Matchette, though, as he missed his second attempt.
Mill Valley junior quarterback Brody Flaming wasted little time in tying up the game at 34-34 with a 10-yard TD pass to Evan Rice on the first play of the Jaguars' possession.
"The only thing I could think of was that I've got to catch this ball, secure it and that's the one thing that was on my mind," Rice said.
Rice's third touchdown reception presented Matchette with a chance to win the game with the extra point, and he drilled it to win the second straight state title for the Jaguars.
"I just felt really lucky to get the second chance. I missed the first one — wind pushed it," Matchette said. "I was just nervous coming in, all shaky, but I knew my teammates were behind me. All of them were picking me up, telling me to get it again."
Matchette did not have an doubts about his game-winner.
"Right off the foot, I could tell it was in. I just started running away from everyone," Matchette said. "I didn't even have thoughts. I was just running."
Before the chaotic two overtime periods, the Jaguars and Lions were tied at the end of regulation at 28-28. All four of the Jaguars' touchdowns in regulation came through the air, as Flaming threw two touchdowns apiece to senior wideout Ben Hartman and Rice. Flaming completed 16-of-29 for 200 yards, and also rushed for 122 yards on 27 carries.
The junior quarterback was one of 17 new starters for Joel Applebee's squad heading into the season. Senior safety Joel Donn said that Flaming did a more-than-adequate job of filling the void left by quarterback Logan Koch.
"Everybody was like, 'How's he going to fill Logan's shoes?'" Donn posed. "He has his own shoes. He's done an incredible job leading this team."
Applebee has called Donn, "the quarterback of the defense," throughout the season, and the strong safety did not disappoint the Mill Valley coach in his final game with the Jaguars. Donn recorded a game-high 16 tackles, and hauled one of two interceptions thrown by Sullivan. Donn finished the season with 193 tackles.
"It's sweeter when you're a senior," Donn said. "I mean, last year was sweet — don't get me wrong. It's just so rewarding because nobody thought we were going to be able to do it. Nobody did."
The Jaguars started off the season on a roll by winning their first three games, but they stumbled when they went into the heart of the Eastern Kansas League schedule with four straight losses to Blue Valley, Aquinas, Bishop Miege and BV North. The Jaguars responded with six straight wins to end the season with a record of 9-4.
"I'm just so happy for these kids. They worked so hard throughout the season, just so resilient," Applebee said. "I'm so happy for this community, this school. We've got unbelievable support. The crowd was awesome, and a big part of us winning."