Duderstadt: Goddard's 'Chu Chu Train' fueled by class despite costly fumble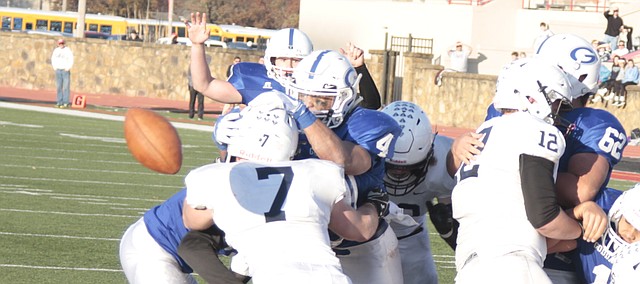 Pittsburg — Goddard running back Kody 'Chu Chu Train' Gonzalez chugged all day long against the Mill Valley defense until his final carry of the Lions' 35-34 double overtime loss Saturday in the Class 5A state championship game.
Gonzalez rushed for 188 yards and two touchdowns on 25 attempts, but fumbled inside the 1-yard line in overtime when he tried to push forward for a game-winning touchdown. Mill Valley senior linebacker Dylan Smith jarred the ball loose, and Jaguars defensive back Jack Eber recovered it.
After both teams went through the handshake line and received their respective plaques following the game, one could not have blamed Gonzalez for not wanting to talk to anyone after a heartbreaking loss. Instead, Gonzalez looked for Mill Valley's offensive standout — junior quarterback Brody Flaming — before going into the locker room and taking off his Lions uniform for the last time.
From one playmaker to another, Gonzalez sought out Flaming to congratulate him on leading the Jaguars to a second straight state championship.
Flaming was in the middle of postgame interviews with myself and a few members of the Mill Valley News staff when Gonzalez approached him. The junior quarterback — who threw for 200 yards and five touchdowns, and also rushed for 122 yards — was taken away by Gonzalez' sportsmanship.
"It would have been the same thing if they scored on that, then I would have been feeling the same thing. I feel bad for him," Flaming said. "That kid has a lot of character. That's a great kid right there to come up to an opponent after the game and say those kind of things."
Flaming had never talked to Gonzalez prior to the postgame conversation, but said that one of his favorite things about the game is that "football creates relationships" when it comes to meeting players like the Goddard senior.
"Kody, he's a great running back," Flaming said. "He fought all game."
After I finished talking to Flaming, I went over to talk to a few more Mill Valley players, but my mind kept going back to Gonzalez. The class move by Gonzalez made me think back to another state title game in which a Shawnee-area team was on the losing end of a down-to-the-wire matchup.
The Shawnee Mission Northwest girls basketball team fell just short of winning its first state title in program history in a 36-30 loss to Wichita South back in March. Brenni Rose — who is now coming off the bench as a freshman at Drake — scored a team-high 13 points to lead the Cougars, and ended her career as SM Northwest's all-time leading scorer and rebounder.
Rather than trying to approach Rose after the game, the 6-footer came up to me to give her thoughts on her final contest as a Cougar.
It's not too often that high school seniors, or athletes at any level for that matter, can compose themselves like Gonzalez or Rose did after excruciating losses.
There is a small connection between Gonzalez and Rose that is probably a good indicator of why both athletes conduct themselves in a professional manner both on and off the field and court. Goddard coach Scott Vang is the brother of Pete Vang, who is Rose's uncle.
Athletics run deep in the bloodlines of the Vang and Rose families. Scott's son, A.J. Vang, helped pave the way for Gonzalez' big day as the Goddard center. The Goddard coach also had a standout career at the University of Iowa, while Pete and his other brother Shawn played at Kansas. Scott's nephew, Tucker Vang, is currently a walk-on for the Kansas basketball team.
While Rose has moved on from SM Northwest to launch her own collegiate basketball career at Drake, several of her immediate family members are still finding success at her alma mater. Emmalee Rose — one of Brenni's four siblings — is returning as the Cougars' starting point guard, and her father, Mike Rose, is the coach of the SM Northwest boys basketball program. Mike Rose's uncle, Van Rose, has also coached the SM Northwest cross country program to 34 combined state team titles between the boys and girls squad, as well as several other individual champions.
Emmalee and Brenni both wished A.J. good luck via Twitter prior to Saturday's game, and even though they are distant family members, the younger Rose sister said it doesn't feel that way.
"We've taken multiple family trips together and spend so much time with the Vangs that we all just refer to each other as family," Emmalee said.
While I have personally not been around the Goddard football program aside from Saturday to see how Scott Vang runs his program day-in and day-out, if it is anything like how the each of the Rose's carry themselves, it's built upon first-class character.
That was evident with how Gonzalez reached out to Flaming, after what had to be one of the toughest experiences he's had on the gridiron.
At whichever platform the 'Chu Chu Train' arrives at next, his college conductor will have a gem in the competitive and classy running back.
More like this story