'

Road rage' incident leads to arrest on I-435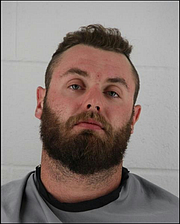 Shawnee Police arrested a 23-year-old Platte City, Missouri man on Wednesday following what police are calling a 'road rage' incident on Interstate 435.
Police say Mackenzie Zimmer pointed a gun at another driver during the incident on I-435 near Shawnee Mission Parkway on Wednesday afternoon.
On Friday the Johnson County District Attorney's Office charged Zimmer with aggravated assault and criminal use of a weapon. He posted $5,000 bond shortly after arraignment and was released.
Zimmer's next court appearance is scheduled for December 4 at 1:30 p.m.
---
Operation 100 News provides overnight news coverage for the Shawnee Dispatch. Follow on Twitter for real-time updates.
More like this story