TV

chef spices up Shawnee business
Tyler Florence partners with Vita Craft to create new cookware line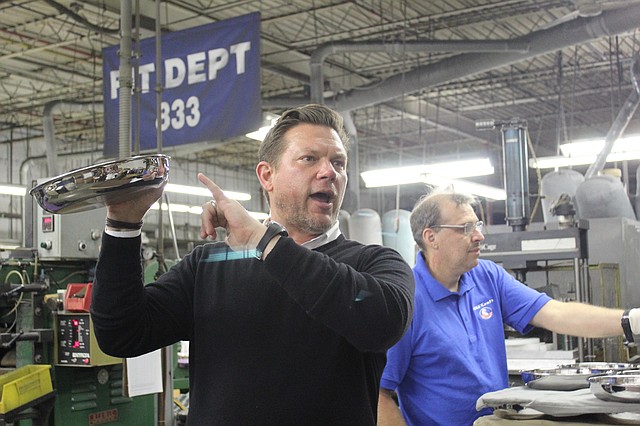 "He's so dreamy!"
"I can't believe it's really him."
"I'm his biggest fan."
Those were just a few phrases gushed by adoring fans of Tyler Florence last week, when the culinary superstar introduced his new line of cookware at the Vita Craft factory.
Florence is known for hosting a wide variety of Food Network television shows, as well as publishing numerous food-related books. He also owns restaurants and a chain of kitchen retail stores.
Hundreds of people showed up to the VIP event, where Florence took photos with fans, gave an in-depth tour of the Vita Craft factory, and showcased his 10-piece line of cookware, which he designed.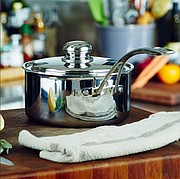 Florence worked with Vita Craft for more than two years on the line, to make sure the quality and design were top-notch.
The pots and pans are made with five-ply stainless steel with an aluminum core and feature dramatically curved ergonomic long handles.
An easy pour rim design allows for no-mess transfer of contents and a reverse panel in the bottom of the pan prevents the pans from ever warping.
The pots and pans are usable on all cooking surfaces and carry Vita Craft's lifetime warranty.
Individual pieces run from roughly $130 to $300, with an entire set costing $1,043.55.
On Black Friday, the line will be sold on Amazon, with hopes of it being sold in Kansas City area retail stores soon as well.
Florence told the Dispatch that his collection is traditional with a modern twist.
He also pays homage to Vita Craft's roots by engraving the company's vintage 1939 brand logo on the back of each pan.
"The brand is about American heritage," he said. "There's a certain level of pride that comes with creating something great and knowing people will be using it year after year."
The partnership between Florence and Vita Craft stemmed from the celebrity chef's nostalgia.
When the president of the company approached him with the idea of collaborating, Florence felt like it was fate.
"It hit me like a ton of bricks that when I was eight-years-old, a Vita Craft door-to-door salesman came to my house and cooked dinner for us," he said. "My dad bought the set and that was the cookware which I learned to cook on. That memory is why I knew we had to work together."
The 77-year-old American company's history was prominently displayed at the VIP meet and greet last Tuesday afternoon.
Actors, elegantly dressed like 1939 Vita Craft door-to-door salespeople, answered guests' questions about the cookware line.
The event featured a street taco station, delicious appetizers, and ice-cold lemonade.
Culinary students from Johnson County Community College also walked around the factory, offering guests exotic hors d'oeuvres.
The glamour and excitement of the partnership even has Vita Craft officials a little starstruck.
"It's kind of unbelievable, to tell you the truth," said Karie Keeney, the marketing manager for Vita Craft. "Tyler is one of the most genuine and endearing people and he really took the time to get to know us as a company and talk to our employees. He has a real appreciation for our products."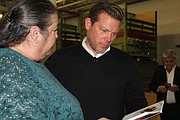 She pointed out that Florence worked hard to design a beautiful, sturdy product that will stand the test of time.
"He's helping to put Shawnee on the map," Keeney said. "We don't want to cheapen our products by having them made overseas. People say you can't get things made like you used to, but there are still companies working hard to make quality, affordable products right here in the USA."
Florence's presence was appreciated by everyone who attended the product launch.
Shawnee City Councilwoman Stephanie Meyer told the Dispatch that as a foodie, she was thrilled to meet Florence. She's proud of Vita Craft for establishing such a prominent partnership.
"This was a fantastic way to showcase one of our awesome local companies," she said. "It's a big deal we have Vita Craft here and that they've stayed in Shawnee after all these decades."
For Michael Simianer and Jacob Albright, culinary students from JCCC who handed out appetizers, the chance to meet Florence was once-in-a-lifetime.
"We don't get many opportunities in Kansas City to work with a celebrity chef," Simianer said. "Normally, you'd have to travel to New York City or Los Angeles."
Albright agreed.
"In the cooking world, Tyler Florence huge," he said. "In real life, he's very nice and pleasant to talk to. He really made us feel appreciated."
For others, meeting Florence was simply the chance to meet a celebrity crush.
"He was really cool," said Ella Culliss, an 11-year-old from De Soto, with shy smile. "I think all my friends are going to be jealous."
For more information about the partnership, visit the company's Facebook page at www.Facebook.com/vitacraftcorporation.