Tough schedule on tap again for Mill Valley wrestling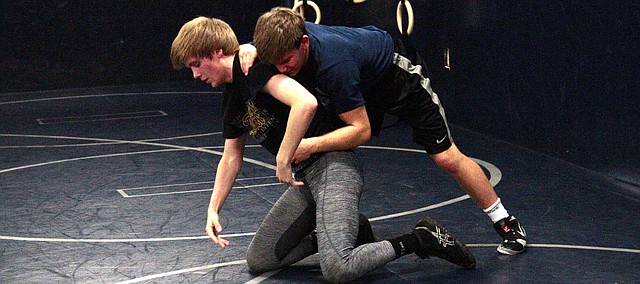 Mill Valley wrestling coach Travis Keal is a firm believer that in order to be the best, you have to beat the best.
That is one of the main reasons that Keal has composed another difficult schedule for the Jaguars in order to have them be in top-form come state tournament time.
"We want to be our best in February. That's always our goal, but we're going to work hard now," Keal said. "We've got some areas where we can do way better than we did last year, and that's what I'm really picking on right now. We've got to fix those areas so we can beat people better than us. Our schedule early in the season is not very forgiving."
The Jaguars will go up against some of the best teams across the Midwest in their first three tournaments. Mill Valley will begin its season with the Gardner-Edgerton tournament on Saturday, followed by the Council Bluffs Wrestling Classic and the Kansas City Stampede the next two weekends.
"They know what is on the horizon, and they know they've got to be ready. If they aren't we'll fix it," Keal said. "The goal is February. We're not going to be as good as we can be at those tournaments."
Keal's squad has a wealth of experience with nine of last season's 12 state qualifiers returning in senior Dylan Gowin (113), junior Bryson Markovich (120), junior Conner Ward (126), junior Jarrett Bendure (132), senior Jett Bendure (138), senior Austin Crocker (152), junior Hayden Keopke (160), sophomore Ethan Keopke (170) and senior Alec Derritt (285).
"We just want to push ourselves to get better every day," Jett Bendure said. "We're not really focused on anything else. We're just motivated to get better."
The Jaguars also have a talented freshman class coming with, which is headlined by Keal's sons — Zach and Austin Keal. The Keal brothers joined Jarrett Bendure and Ward in competing at USA Wrestling Preseason Nationals Nov. 5 in Cedar Falls, Iowa. Ward highlighted the tournament by earning all-america honors with a seventh-place finish after posting an 8-2 record in the 132-pound weight class. Jarrett Bendure just missed a top-eight finish as well, but felt that the tournament served as a good tune-up to get ready for the season.
"I didn't place, but 4-2 is pretty good against great competition," Bendure said. "I got good experience."