Polar opposite teams make perfect practice partners in Mill Valley, De Soto swim and dive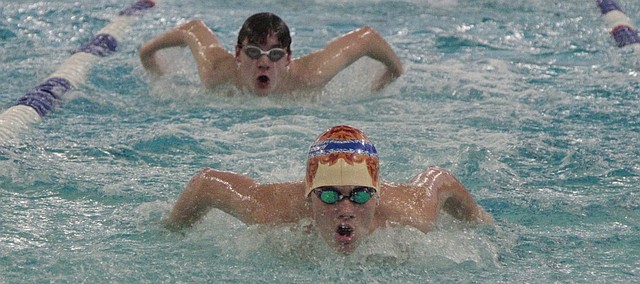 The composition of the Mill Valley and De Soto boys swim and dive teams could not be much more different as they begin the fifth year of their respective programs, but that has not diminished the energy level of the Jaguars and Wildcats' combined practices.
Mill Valley lost 10 seniors from its 2015-16 squad, but Jaguars coach Dan Dervin is confident in an overall young team, which is expected to be led by seniors Mitch Willoughby and Garrison Fangman and sophomore Chris Sprenger. Willoughby was the Class 5A state runner-up in the 1-meter dive, and Fangman finished third in the butterfly.
"It's not a very big group," Dervin said. "It's a smaller group than last year, but really hard workers. Not a lot of swim experience, but we do have some returners."
Dervin acknowledged that the first season in the Eastern Kansas League could be tough for the Jaguars, but he is excited to see the development of the nine underclassmen — five freshmen and sophomores — on the team.
"We've got some good, new faces with a couple of freshmen and a couple of juniors who are pleasant surprises," Dervin said. "Then we've got Mitch Willoughby in diving. He's always really good. And then we have Chris Sprenger — a super sophomore."
Sprenger and Fangman will serve as two cornerstones for the Jaguars' relay teams.
While the Jaguars are in a rebuilding season, De Soto coach Alissa Ruffin believes that the Wildcats have the potential to have their best season yet.
"We only had one senior last year, so our state team for the most part is returning. We have three seniors — Jarod Blazo, Jason Leuenberg and Cameron Webb," Ruffin said. "We basically already have our state medley relay in place, so I'm excited for this season. I think our team is stronger than ever."
The Wildcats and Jaguars have been practicing at Indian Creek Middle School in Olathe while preparing for their respective seasons. Ruffin said that it feels like the Wildcats and Jaguars are just one big team with herself, Dervin and Mill Valley assistant Kirsten Crandall trying to get the best out of all the swimmers and divers.
"From a coaching perspective, it's awesome because we have three people that can work together to just strengthen the world of swimming. We don't look at it as, 'I'm coaching one team, and they're coaching another team,'" Ruffin said. "We look at this as a collective group that we're trying to make better at swimming. As far as competition is concerned, the guys are pretty competitive with one another. They want to beat one another, but they still cheer each other on."
Blazo has been taking the likes of Sprenger under his wing in the first two-plus weeks of practice. The De Soto senior placed sixth at state last season in the 200 free. While Blazo and Sprenger have been setting the tone so far in practice, Ruffin said there have been quite a few swimmers who have been trying to shake some rust off from the offseason.
"Lots of them have not been conditioning prior to the start of the season," Ruffin said. "So what they remember from swimming is when they were in peak shape last February, and they're starting over. But at the same time, I know they're hopeful because I know what they are capable of, and they know they are going to achieve that, if not surpass it."
Ruffin has enjoyed watching the strides the the Mill Valley and De Soto teams have made over the past five years, and she believes that bigger and better things will be in store for the next five years.
"Swimming in my opinion is still a new sport to the district of De Soto," Ruffin said. "Every year that we can have a successful season, I think it brings an awareness of the sport to the community, and I just hope that people understand that with being such a young team — both De Soto and Mill Valley are very successful teams. We appreciate the district support, we appreciate the community support and we just look forward to continuing a program year after year."
Mill Valley and De Soto will both kick off their reasons Saturday at Lansing.