SM

North's Schneider announced as Simone finalist, highlights all-metro team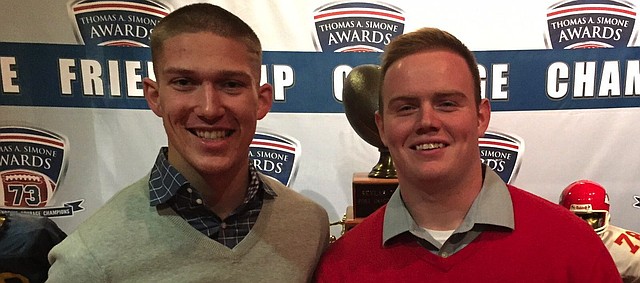 Kansas City, Mo. — Shawnee Mission North senior quarterback Will Schneider was announced as one of four finalists for the Thomas A. Simone Award — an honor which goes to the most outstanding football player in the Kansas City metro area — on Monday night at Arrowhead Stadium.
"This is pretty cool," Schneider told Mick Shaffer of Spectrum Sports.
Schneider joined Blue Valley quarterback Matt Dercher, Park Hill defensive end Chester Graves and Staley running back Julian Ross as a finalist for the award. The winner will be announced on Dec. 6.
The SM North quarterback broke the all-time state passing yards record with 8,901, which was previously owned by Kyle Kruger of Silver Lake.
"It's a huge honor. It was something that I had worked for since freshman year," Schneider told Shaffer. "It was a goal that I had set, especially me and my dad had always talked about it. It would be really cool to achieve something like that, so I was really blessed to be able to achieve that award."
Schneider led the Indians to a record of 6-5, and North's first two playoff victories since 2003.
"That was an amazing feeling. It felt like we put some pride back in our school, especially for our football program," Schneider told Shaffer. "We became more respectable, and we knew if we gave it our all every night that we were going to find a way to win eventually in the end. To win two playoff games, that was awesome."
Schneider also made the All-Simone team, and he had some company from three other Shawnee-area players in SM North offensive lineman Danny Presler, Mill Valley safety Joel Donn and St. James Academy defensive end Travis Pickert.
"Blessed to make the All Simone team! And congrats to my best friend @willschneider02 for being a finalist for the Simone award!" Presler tweeted following the ceremony.
Of the four area players to make the All-Simone team, Donn was the only one to win a state championship. Donn had an interception in the first quarter and recorded a game-high 16 tackles in the Jaguars' 35-34 double overtime win over Goddard Saturday in Pittsburg.
"We've got more heart than anybody," Donn said following the Jaguars' second straight state title game victory. "I've never been with a better group of guys in my life."
Donn finished the season with 193 tackles to lead the Jaguars to a 9-4 record. The Jaguars won their last six games after a 3-4 start.
The senior safety served as a role model to younger players in the Mill Valley secondary such as sophomore Tanner Moore, who hauled in an interception in each of the Jaguars' last four games.
"Tanner and I's friendship has been amazing. He told me in person that he looks up to me, and that to me is huge," Donn said. "I think part of it is seeing all of us seniors putting in so much work. It just kind of starts going off to all of the younger kids. He's going to be great."
Pickert was the catalyst of the St. James defense, as he led the Eastern Kansas League with 12 sacks. The St. James senior also three touchdowns catches at tight end for the Thunder.
More like this story