St. James swim and dive takes second at
BVSW

quad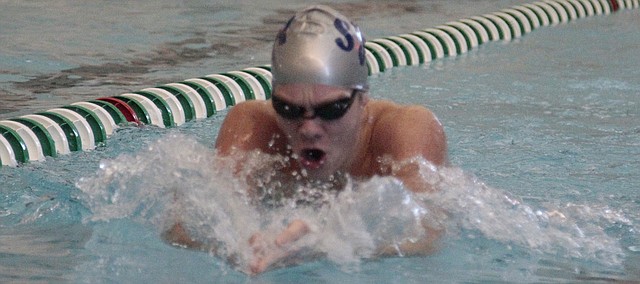 Overland Park — The St. James Academy boys swim and dive team did not disappoint in its first official meet as a member of the Eastern Kansas League.
The Thunder won five of the 12 events Tuesday at the Blue Valley Southwest quad to come away with a second-place in its first meet of the season.
"It's a good start to the season, I'd say. We got some pretty familiar, now (fellow) EKL teams here," St. James senior Andy Maginn said of competing against BV Southwest, St. Thomas Aquinas and Bishop Miege. "So we'll be seeing them a couple more times this year. I'd say all around, we had a pretty solid team showing."
Maginn won the 200-yard IM (2:04.12) and had a first-place finish in the 100-yard backstroke before finding out he was disqualified. He also helped the Thunder win the 200 and 400-yard freestyle relays with respective times of 1:34.96 and 3:41.08.
Nick Callahan and Harry Tjaden joined Maginn on both relays. Kyle Banash and Zach Kurland respectively swam the third leg of the 200 and 400 free relays.
"Our team was very excited that our two relays won today. It was a very big deal because as we go on in the season, relays are very important," Tjaden said. "They're worth more points in the state meet, so it's very important that we knock those relays down and win them. I was very excited today and proud of our team that we won those two relays."
As a freshman, the BV Southwest quad was the first meet as a member of the St. James squad for Tjaden. The Thunder freshman coasted to a first-place finish in the 500-yard freestyle (5:10.07) and added a runner-up performance in the 100-yard butterfly (56.92).
"I like both of them a lot. They're very different events," Tjaden said. "The 100 fly is just one of those events where you've got to sprint and you've got to be tough. In the 500 free, you've got to hold on and enjoy the ride. They're both very fun events, and I'm planning to move forward with those."
Tjaden's second-place finish in the 100 fly was one of four for the Thunder. Callahan contributed two of the other three in the 50 and 100-yard freestyles.
Not to be out-done by the swimmers were the quartet of St. James divers. Jack Petz (197.56), Spencer Burkard (174.60), Zach Rodina (159.38) and Kane Feldman (112.58) took first, second, third and seventh, respectively, to play a big role in the Thunder's second-place finish.
"Thank God we have four divers, you know it?" St. James coach Kellee Hercules said. "It's huge."
The Thunder scored 255 points to finish second to BV Southwest, who edged St. James by 80. Miege and Aquinas followed in third and fourth, respectively. St. James will be back in action at 12 p.m. Saturday at the Lansing Invitational.