Family tradition continues for St. James wrestling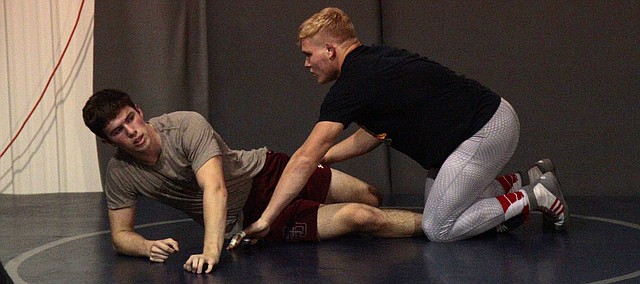 Some of the faces have changed over the years for the St. James Academy wrestling team, but a few of the last names haven't.
Senior Clay Lautt will go for his third straight state title before continuing his wrestling career at the University of North Carolina, but this season will be special for the Tar Heel signee regardless of the results. The Thunder senior's little brother, Cade Lautt, is one of the freshmen that will try to make an impact in the St. James lineup this year.
St. James coach Mike Medina believes the younger wrestlers like Cade Lautt will blossom under the leadership of his older brother and defending state champion Sammy Cokeley. Medina could tell how much the other wrestlers on the team looked up to the elder Lautt by how many of them watched him wrestle in the Cadet World Championships in Tbilisi, Georgia via a livestream feed in the middle of the night.
"They are definitely our senior leaders that we have this year. They spent a lot of time in the room last summer with Clay making the world team and Sammy earning All-America honors," Medina said. "It's something the boys saw. I know the senior class had a senior retreat this year, and they all woke up at 2 a.m. to watch Clay wrestle (in the world championships.)"
Medina has set forth another strong schedule for the Thunder this season to challenge the likes of Lautt, Cokeley and the team as a whole. The Thunder will start their season Saturday at Gardner-Edgerton, but they'll get their fair share of traveling in as well with competing in tournament in Iowa, Texas and Wisconsin.
Medina believes that the strenuous schedule will pay dividends when the state tournament approaches. The Thunder took fourth place as a team last season at state.
"We're built on winning at the end of the year, not the beginning. We always talk about that," Medina said. "You only have to go 4-0 at one tournament to be a state champion."
One of Medina's favorite aspects of the team has been having former state champions — such as Sammy Cokeley's older brothers, Ryne and Reese Cokeley — return every once in a while to practice with the Thunder.
"They're always checking in. They're always wanting to come in and get a workout with the boys," Medina said. "They want to keep their legacy going, and I think that's part of the family thing, too. We've built the program from Day 1 trying to have a family atmosphere. 'Together each accomplishes more' is what we say as our team."
Along with Sammy Cokeley (160 pounds) and Clay Lautt (170) returning for the Thunder, Jacob Schemmel (106/113), Drew Ernsdorff (120), Cody Schmidt (132), Brody Minor (132), Max Lutz (145), Dominic Stean (195) and Chris Spencer (195) will be coming back with previous experience at the varsity level.
"I think this year having Sammy and Clay, it's definitely going to teach the kids we have like Drew Ernsdorff and Cade Lautt and Dominic Stean is another senior that we have, it's going to teach some of those other guys that, 'Hey, we do have a tradition here whether we're at the St. James room or here at the Cokeley's house (the Thunder's alternate practice room),'" Medina said. "It's a tradition that these kids want to keep moving forward."