Shawnee Halloween store gets 'twisted'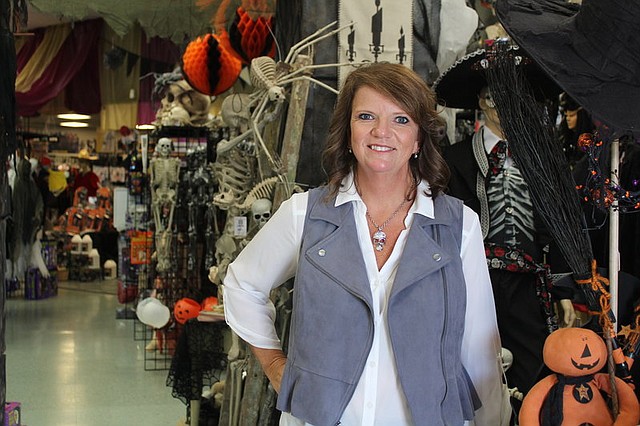 Before fall even began this year, Halloween chain stores popped up all over the Kansas City area.
But one horror boutique in Shawnee is offering Halloween enthusiasts a little more glam beyond the typical costume packages.
Twisted Halloween, located at 15810 Shawnee Mission Parkway, features high-end costumes, movie studio-worthy makeup and wigs, and unique accessories.
"Halloween is a time to be creative and think outside the box," said owner Michelle Hoffine. "We want our customers to be happy when they leave here. We don't want them to get home, open the package, and see a costume that looks nothing like the picture on the bag."
Although Twisted Halloween opened four years ago, this year marks its first time being in Shawnee. The store used to be located in Overland Park. When Hoffine purchased the store last year, she chose its current space, nestled by Target, because of the area's high-foot traffic and accessibility to the interstate.
Hoffine may be a newbie to the Halloween store business, but the Olathe resident is a familiar face on the Kansas City horror scene.
Her husband co-owns the popular 3rd Street Asylum in Bonner Springs.
Helping him set up the haunted house over the years gave Hoffine an shrewd eye when it came to purchasing items for her shop.
Earlier this year, she scoured aisles of products, looking for unique gems, at a halloween expo and a haunted house convention.
She returned with fun props, such webcaster guns and evil clown hammers.
Sprinkled throughout her store are aisles of themes, from steampunk to Alice in Wonderland.
One of her most popular aisles is the 1920s section, which features glittery flapper dresses, flask and pistol garters, boas, and feather headbands.
The shop also features daily deals, makeup classes, and discounts for first-responders, military, and veterans.
On Oct. 8, the shop will hold a fundraiser for Team Zoe, a foundation for fighting blindness.
Future fundraisers will also benefit the Bonner Springs Animal Rescue and Mother to Mother Ministry.
For each fundraiser, refreshments will be sold in the store, there will be drawings for prizes, and ten percent of total sales that day will go back to the charity.
"It's important to be more than just a store, but part of the community," Hoffine said.
Twisted Halloween is open through Nov. 2.
For more information about the store, visit www.twistedhalloweenkc.com.