St. James takes second, Mill Valley finishes third in
EKL

golf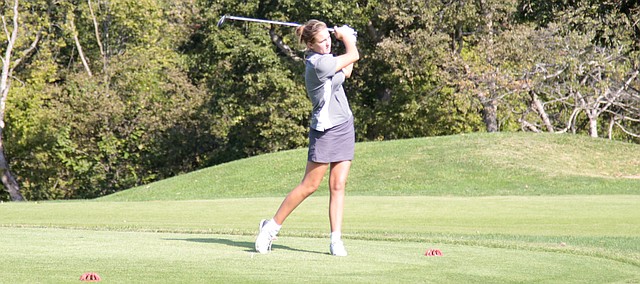 Kansas City, Mo. — St. James Academy and Mill Valley's girls golf teams made their marks in their first Eastern Kansas League tournament by placing second and third, respectively, after the third and final round Wednesday at Swope Memorial Golf Course.
St. James senior Caroline Klemp notched a personal-best round for the second time in three days to be the league runner-up. Klemp fired a round of 2-under, 70 to finish one stroke behind St. Thomas Aquinas' Tatum King in the third leg of the tournament. The Thunder No. 1 golfer finished two strokes behind King after all three rounds were scored.
"It's so exciting," Klemp said. "Just to be competitive in that league this year, it was great. It was our first year being able to compete in the EKL, so to almost win it was fantastic."
Klemp had some early-round struggles with her putter, but remained level-headed to get past them.
"The first couple of holes were rough with putting," Klemp said. "I three-putted the first hole, but I was able to come back from that, so that was good."
While it took Klemp a few holes to find a rhythm with her putter, she was dialed in with her approach shots from wire to wire. Klemp started on the back nine, and was able to get to the green in two on the par-5 12th to spark the rest of her round.
"My short game really helped me today because even when I didn't hit the green, I was able to get it up around the hole and maybe make the putt," Klemp said. "The short game really saved me today."
Klemp was joined in the top 20 of the final EKL leaderboard by Allison Comer (11th), Mary Kate Krebs (15th) and Katie Coens (16th). The team vibe of the Thunder has been high all week between their performance on Wednesday and at the Free State Invitational Monday.
Klemp won Monday's tournament with a round of 73, while Krebs hit a hole-in-one en route to carding a score of 90. Both Klemp and Krebs improved by three strokes Wednesday, and are full of confidence going into Monday's Class 5A regional tournament at Lake Quivira Country Club.
"It's exciting," Krebs said. "I'm really excited to see what the team does."
Krebs and Klemp were not the only Shawnee-area golfers to record personal-best rounds Wednesday. Mill Valley junior Bella Hadden finished right behind Klemp for Wednesday's round and in the final EKL standings — taking third place in both. Hadden shot even par, 72 — which was a career-low by seven strokes. Hadden and Klemp both earned all-first team EKL honors.
"I felt really good about it," Hadden said. "I played to my abilities today, which I've been having trouble doing lately."
Hadden was in the same group as Klemp, and finished 3-over for her first nine. Much like Klemp, Hadden's short game sparked her after making the turn.
"I started making a lot of up and downs," Hadden said. "I had a lot of one-putts, and I was making my birdies when I needed to."
Hadden had a wake-up call after looking at her scorecard following her first nine holes, and made it a point to clean up the one area of her game that was costing her extra strokes.
"I saw I had 19 putts, and I realized that I'm a better putter than that," Hadden said. "I just really focused on making all of my putts after that."
Meg Green also finished in the top 10 of the league standings for Mill Valley. Green shot a round of 85 to place 10th in Wednesday's third leg, and ended up finishing seventh overall in the league.
While Hadden and Green have consistently been the No. 1 and 2 golfers for Mill Valley, Hadden has been impressed with the play of Claire Anderson, Sarah Lawson and Grace Van Inwegen heading into regionals.
"I feel like the team in going in really well. Our No. 3, 4 and 5s are really stepping up, and we're getting those good third and fourth scores," Hadden said. "I feel pretty confident about it."
Hadden and the Jaguars will also be competing Monday at Lake Quivira Country Club with St. James, De Soto, Blue Valley Southwest, Aquinas and Pittsburg for a chance to qualify for the Class 5A state tournament in Arkansas City.