Woman arrested after threatening girl with bat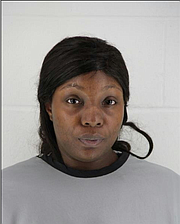 A 25-year-old Shawnee woman was arrested after she allegedly assaulted an 11-year-old girl on an apartment complex basketball court.
Major Dan Tennis of the Shawnee Police Department says officers were called to the Shawnee Station Apartments near West 65th Street and Maurer Road around 6:35 Sunday evening.
"A 9-year-old boy was allegedly beat up on the basketball court of the Shawnee Station Apartments, Tennis said. "He ran home crying and his 25-year-old mom was tired of her son being bullied."
According to Tennis the boy's mother drove to the basketball court with a baseball bat in hand. Once there she got out of her car and threatened an 11-year-old girl with the bat.
The girl's aunt was outside when the incident occurred and called police.
Officers responded and arrested the woman.
The suspect, a resident of the apartment complex, has been identified as 25-year-old Frances Lee West.
On Monday afternoon West was charged with felony aggravated assault. Her bond was set at $5,000.
No injuries were reported.
---
Operation 100 News provides overnight news coverage for the Shawnee Dispatch. Follow on Twitter for real-time updates.