Cancer battle leads to road trip, memoir for Shawnee sports journalist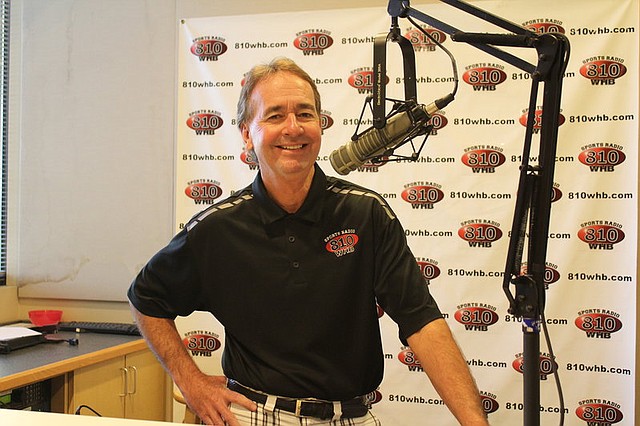 It was a journey that spanned two World Series.
It led to a secret road trip.
It led to self-discovery.
It led to a book.
But when Danny Clinkscale, of Shawnee, was diagnosed with salivary gland cancer in Oct. 2014, the future seemed scarily uncertain.
After surgery and grueling radiation therapy, the popular sportscaster for 810 WHB quickly lost weight and gradually lost his sense of taste.
During his emotionally and physically exhaustive struggle, he mentally planned a one-man road trip across the northern Midwest. It would be just him and the road. He told no one, not even his wife.
Little did he know at the time, he was planting the seed for an adventure that would shortly turn itself into a book.
Last month, Clinkscale launched his self-published memoir, Leaving Cancer for the Circus, which chronicles his battle with cancer, his road trip, and his recollections throughout his career as a sports announcer.
"I never intended to write a book, it's just something that poured out," he said. "I realized, this is something I have to write for me."
Perhaps even more scary than facing cancer, however, was taking off for a road trip without informing his wife, Clinkscale admitted, with a laugh.
In May of 2015, he left a note for his wife and simply vanished in his car on to the lonely interstate.
"Darling," began his note, "This is a love letter."
It explained his desire to hit the road for while, simply for peaceful solace.
Fortunately for him, his wife, Jayne Siemens, completely understood, after recovering from her shock, of course.
"At first, I felt a flush come over my body," Siemens told the Dispatch. "Had I done something wrong? Then, I thought about it, and realized, had he asked me if he could go, there would have been a million things that might have gotten in the way...life stuff."
And she never once saw his journey as him running away, she added.
"He never took a day off from work or from his workout routine the entire time he was having radiation treatments," she said. "I realized how much he needed this time away. By turning everything in his life off, including his cell phone, and obligations to me, (it) was the best gift he could give himself and his family."
Clinkscale's trip took him to Nebraska to South Dakota to Montana.
He weaved in and out of small towns, historical monuments, and breathtaking scenery.
"It was so beautiful," he said. "I drove through gorgeous places, gasping audibly and saying out loud, with nobody to hear me, 'wow.'"
When he came home, it was back to work, which for a sports fan, might not even seem like work.
After all, he was covering the Royals' legendary 2015 baseball season.
As a professional sports journalist, he finds it poignant that he was diagnosed with cancer around the time the Royals lost the World Series, to being cancer-free by the time the Royals won the World Series a year later.
His personal journey aside, that year span was the highlight of his career.
"Covering the Royals for years and have them be so bad and then to be on the road and see them win the World Series was very special," said Clinkscale, who has worked at 810 WHB for 16 years. "The whole city was captivated. Even if you weren't a sports fan, it was about Kansas City pride."
As the world celebrated the Royals, the Shawnee father-of-two celebrated his health.
"I had never talked about it on the show," he said. "But I broke down and announced that I was cancer-free and the response was overwhelming. I got hundreds and hundreds of emails from people who found my story emotional and who had been affected by cancer."
The response was similar at his book signing earlier this month.
Listeners, coworkers, and even a few of his buddies from his days at the University of Kansas Journalism School showed up to show their support.
His wife couldn't be more proud of him.
"It's so exciting to see people come up to us who have read the book and talk about their loved ones' experience with cancer, and how they reacted, or recovered, and sometimes not," Siemens said. "Lots of tears flowing…it seems Danny's journey has really touched people, and that is extremely gratifying."
It's not just Clinkscale's words that will impact people with a cancer story to tell.
A portion of the proceeds from every book he sells will be donated to Coaches vs. Cancer, a nationawide collaboration between the American Cancer Society and the National Association of Basketball Coaches, that empowers basketball coaches, their teams, and local communities to make a difference in the fight against cancer.
"Being in sports, I've seen the great work they've done and continue to do," Clinkscale said. "They've raised millions of dollars over the years. It was a natural fit."
Leaving Cancer for the Circus can be purchased on Amazon, or by searching for the book title on Facebook.