Like father, like son:
SM

North

QB

Schneider follows in dad's footsteps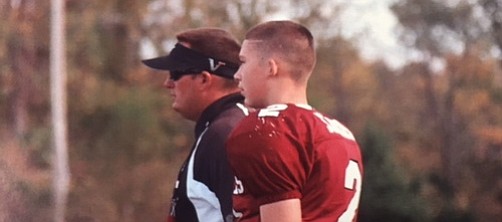 Shawnee Mission North senior quarterback Will Schneider is a rare four-year starter at the high school level, and his relationship with the Indians football program goes back even further.
Schneider — who has led the Indians to a 3-3 start and ranks among the best in the state with 1,520 passing yards — started attending SM North football games with his father, Marty Schneider, about a decade ago.
"I've been bringing him here since second grade, first grade, and we would sit in the far corner of the stadium with the junior high. I just wanted him to get a feel for what it was about," Marty said. "Every once in a while the coach, coach Brown — Sam Brown was here at the time — and he would let us down on the field. So Will would hear the contact. I just wanted that environment for him."
Few people know the ins and outs of the SM North football program better than Marty, as he knows from his own experience what the environment on the field is like from being a quarterback for the Indians. Marty was under center for SM North for his senior football season 30 years ago, and has been able to relive some of his playing days through his son.
"Against Shawnee Mission West, Will had his first rushing touchdown, and I had a friend text me during the game and he said, 'Hey, how close is he to you?'" Marty said. "And I said, 'Well, he already broke my record.' It didn't taken long for him to prove that he was the best quarterback in the family."
Will credits a lot of his knowledge for the game and the quarterback position to Marty, who served as his youth football coach while he was growing up. The SM North quarterback had a big smile on his face when reflecting back on when his father coached him, and the stories he has heard about Marty quarterbacking the Indians.
"He's really taught me a lot about how to be a better player and how to be a leader," Will said. "He's just done a great job of always being there for me whenever I need the support and always pushing me. I can always count on him."
Will continued, "It's kind of funny because when we talk about it, I think he was 5-9 and 170 and I'm 6-4 and 205. We're two different styles of quarterbacks. It's funny because he talks about it and you hear the stories, and you just want to be like him. When you finally get to go out there and play, it's really cool that he'll say, 'Great job tonight, son.'"
Along with having different builds, the offenses that the Will and the Indians run now contrasts a lot from the one Marty led three decades ago.
"It's different because back in '87 when I graduated, there was a lot of handing off," Marty said. "You always hand it off. Larry Harless, who was our head coach, he was new. Similar to what Will had with coach (Ben) Bartlett."
Bartlett has Will spreading the ball all over the field to a deep receiving corps that includes seniors Avante Williams and Zach Pittman, junior Nate McCoy and sophomores Billy Conaway, Noah Laird and Trevon Kleint.
"Will is playing with some young receivers right now. They're a talented bunch," Bartlett said after the Indians' 25-22 loss to Olathe Northwest on Sept. 22. "They're a hard-nosed bunch, but he's taken the lead with them. He's a great leader on this team. He pushes us to succeed."
While the Indians came up short against the Ravens after David Boschma booted a game-winning field goal as time expired, Schneider orchestrated a 97-yard drive in two minutes and 20 seconds to tie the game at 22-22 with 23 ticks left on the clock. Although Schneider was the one pushing the Indians downfield, he deflected all of the credit to his teammates.
"Our offense is based off of our O-Line. We have five of the hardest working kids out there," Will said. "Tonight, and obviously in the fourth quarter, they came alive. That's obviously what got us sparked, and then Marcos Garcia and Reese Sila and being able to run the ball just opened everything up for our offense."
Will has enjoyed learning offensive coordinator Adam Pummill's offense, and has worked on and off the field to figure out what makes it click.
"We'll be at the dinner table, and my wife will say, 'Will, put your phone down,' and he's watching game film. He's just wanting to see what's going to happen next," Marty said. "Coach Pummill, the offensive coordinator, has just created an offense that really fits him. It makes it fun."
Although Will's high school career is nearing an end with only two regular season games remaining on the schedule, the SM North senior quarterback has plans to play at the NCAA Division I level. Will was looking at schools in the Missouri Valley Conference over the summer — including Northern Illinois, Northern Iowa and Missouri State. He attended numerous Division I and II camps and went on a few campus visits over the summer, but has made it a point to focus on leading the Indians this fall.
"This is our class' senior year. We've committed so much over the past four years," Will said. "We all have worked our butts off. I'm committed to this season because they're committed, and I see that every day at practice that we're working hard for something bigger right now. I really want to be the class that turns this program around."
Marty has admired how his son has balanced his athletics and academics — as will is also a member of the SM North basketball and baseball teams, and participates in the school's Advanced Repertory Theater program. The elder Schneider has been thrilled that Will has been able to experience the "family atmosphere" of SM North, and believes that it has helped prepare him for when he moves on to college.
"It's a long process and it's a hard process right now for him, but he just focuses on the field and playing. He takes his phone calls from the coaches," Will said. "That's when I'm most impressed. He can talk with the adult coaches about anything from football to education or whatever he's looking for in the future. We're just very proud of him and where he's at."
Will and the Indians will conclude the regular season with games against SM Northwest at 7 p.m. Friday and Olathe South Oct. 21 — both of which will be played at SM North District Stadium, and Marty plans on cherishing his son's last two contests in an Indians uniform.
"Friday nights are my favorite nights," Marty said. "I can't wait to come out and watch him play."