Popular Shawnee restaurant's name change reflects 'culinary evolution'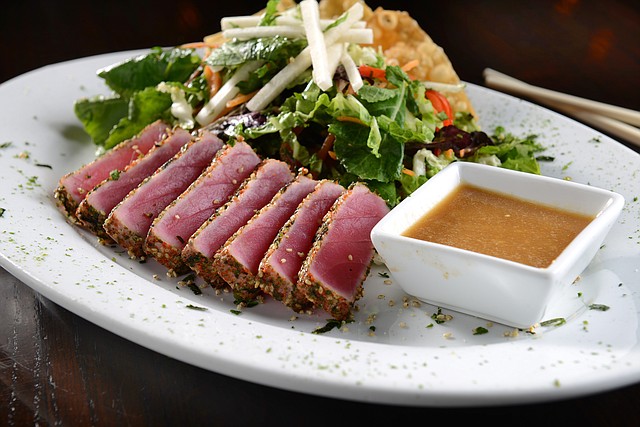 Modernization is key in the restaurant business.
That's one of the reasons a popular Shawnee restaurant has become a little more sophisticated.
Barley's Brewhaus, which also has a location in Overland Park, recently changed its name to Barley's Kitchen + Tap.
The new name reflects the restaurant's culinary evolution, said Chris Sutton, CEO of KC Hopps Ltd., which owns and operates Barley's.
In the last 20 years, Barley's menu has evolved from simple scratch items to eclectic, chef-driven creations.
The facelift also includes a new logo and new uniforms.
"Businesses that want to stay relevant need to evolve," Sutton told the Dispatch. "Over the last 20 years, a lot of competition has come to the city, which has been exciting. It keeps us on top of our game."
The new menu items include:
Seared Tuna Tataki Salad: crispy, Asian cabbage, jicama, bell peppers, cilantro tossed in light citrus vinaigrette, served with lightly seared togarashi tuna and sesame ginger vinaigrette.

Seafood Orzo Pasta: Shrimp, scallops, mussels, claim with olives, artichokes, garlic and sundried tomatoes, tossed with orzo pasta in lemon butter sauce.


3 Little Pigs Flatbread: Slow-roasted pork, hickory smoke bacon and smoked ham topped with pickled cherry tomatoes, BBQ sauce, roasted poblano peppers, menonita cheese and crispy kale.

Brick Chicken Sandwich: Chablis-poached chicken layered with tomato bacon jam, brie cheese and basil pesto on ciabatta roll.

Seared Yellowfin Tuna (small plate menu): Togarashi-rubbed and seared rare, wrapped in a crispy spring roll and served with Asian slaw, sesame ginger vinaigrette, crispy wontons and wasabi mayo.

Bruschetta (small plate menu): Trio of hearth-baked breads and topped with seasonal offerings.
One thing that hasn't changed about Barley's, however, is the beer.
The restaurant will continue to offer micro and macro brews and imports.
Since it opened 20 years ago, Barley's has maintained its 99 beers on tap. It also features 150 bottle and can varieties.
"We try to get every interesting beer that we can," Sutton said. "The craft beer industry is getting more interesting. It's not a fad, it's here to stay and it's continuing to see tremendous growth."
Barley's Kitchen + Tap in Shawnee is located at 16649 Midland Drive.