Three people injured in October 18 crash on Renner Road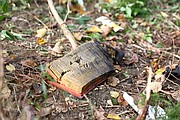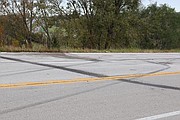 Three people were injured, one critically, in a crash last week on Renner Road.
Captain Mark Hein of the Shawnee Police Department said officers were dispatched to an injury accident in the 7700 block of Renner Road at 8:21 p.m., Tuesday, October 18.
"A red Toyota Solara was northbound on Renner Road," Hein said. "The driver lost control of her vehicle, fishtailed, and crossed the center line, colliding with a southbound vehicle. The driver, a 22-year-old Overland Park resident was ejected from her vehicle"
The southbound vehicle, a white Ford Taurus, went down an embankment after the crash. The Taurus was driven by a 23-year-old Lenexa woman with a 22-year-old male passenger, also of Lenexa. The driver had to be extricated from the car by the Shawnee Fire Department.
Johnson County Med-Act Public Information Officer Angela Fera confirmed that three people were injured in the crash. One person was transported from the scene with critical injuries and two others were transported with serious injuries.
"Neither driver was wearing their seat belt, the passenger was," Hein said. "The damage to both vehicles was extensive."
A neighbor, who didn't wish to share his name, tells Operation 100 News that he heard the crash and is praying for the woman he saw being treated in the ditch.
As of Wednesday, October 19, the 23-year-old Lenexa woman who was driving the Ford Taurus was still hospitalized. An update on her condition was not available this week. The passenger and other driver were both treated and released the morning after the crash.
The Shawnee Police Department's Traffic Safety Unit continues to investigate the crash.
---
Operation 100 News provides overnight news coverage for the Shawnee Dispatch. Follow on Twitter for real-time updates.
More like this story