Cross country roundup: St. James,
SM

North girls win regional titles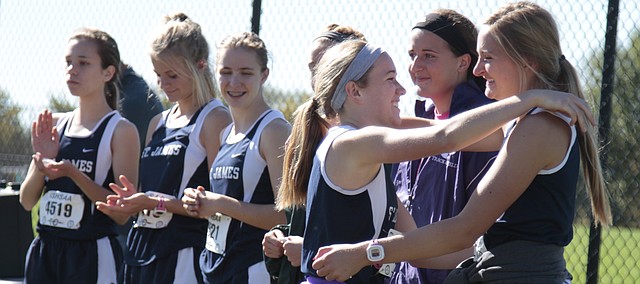 Overland Park — While there is a big gap in experience on the senior-led yet freshmen-heavy St. James Academy girls cross country team, one would not be able to tell by the packs the Thunder have formed throughout the season.
It was no different for the Thunder at the Class 5A regional meet Saturday at Johnson County Community College, as they rolled to a first-place finish by putting their top five runners in the top 10.
"It's really exciting for us, and we've worked very hard," senior Carlie Yunger said.
Yunger led the way for the Thunder with a fourth-place finish, clocking in with a time of 19:27.34. Finishing right behind Yunger was the St. James freshmen trio of Sarah Murrow (19:47.65), Katherine Moore (19:48.52) and Hannah Robinson (19:49.29) in fourth through sixth places.
"It's just awesome to know that we can all stick together and kind of run the race together," Yunger said.
Senior Gabrielle Boucher rounded out the top 10, as she crossed the finish line with a time of 19:56.00 to secure the team title for the Thunder. St. James posted a team score of 31 to edge St. Thomas Aquinas — the reigning Class 5A state champion — by 10 points.
Senior Hannah Schaefer (20:33.83) and junior Mary Goetz (21:09.34) finished in 18th and 25th, respectively, and will join Yunger, Murrow, Moore, Robinson and Boucher at the Class 5A state meet Saturday at Rim Rock Farm in Lawrence.
Yunger expects another tough challenge from Aquinas and the rest of the field at state, but remained calm, cool and collected when asked what it would take to earn another first-place plaque.
"We're just going to focus on what we need to do," Yunger said.
The morale of the St. James boys team was quite different, as the Thunder earned a fourth-place finish to miss out on qualifying for state by eight points.
Despite finishing just outside of the top-three qualifying teams, senior Erik Wilkinson (ninth place, 16:48.09), sophomore Jack Moore (12th, 16:56.05) and senior Matt Kipper (17th, 17:07.25) were among the five individuals who qualified for the state meet.
"We wanted to make it as a team, but I'll still take the three," Wilkinson said.
Wilkinson and the Thunder had a game plan going in of trying to stick with Blue Valley Southwest No. 2 runner Connor Roberts — knowing that it would likely be between them and the Timberwolves for the third and final state-qualifying berth.
"I was with him for pretty much the whole race until the last 200 (meters) of the race," Wilkinson said. "I pulled ahead barely, but me and him were going at it for most of the race."
While Wilkinson clipped Roberts by almost two seconds, the Timberwolves went on to take third place behind Aquinas and Mill Valley.
SM North girls win 6A regional behind Kasunic, Reed
Shawnee Mission North sophomore Katie Kasunic has had a simple race strategy throughout the season, and executed it to perfection to lead the Indians to a 6A regional championship Saturday at Johnson County Community College.
Kasunic's goal all season long has been to keep teammate Amber Reed within her sights. Kasunic knew that Reed was going to try and hang with SM Northwest junior Molly Born — who won the regional title — and she kept her eyes peeled on her teammate as she pushed the pace for the first mile.
Reed was unable to sustain the pace, and Kasunic knew she had to step up. Kasunic did just that, as she finished in front of Reed for the first time of the season to earn a second-place finish with a time of 19:14.18.
"I was coming up that hill and I saw her struggling a little bit, so I was able to kind of work with her," Kasunic said. "I was like, 'Well, she's not going,' so I pushed it a little bit more and it was really good."
Although Kasunic passed Reed just before the two-mile mark, the SM North senior did not let her teammate pull too far ahead, as she came in third with a time of 19:24.33.
The SM North duo and the rest of the Indians varsity squad ran with a lot more confidence than they did at the Sunflower League meet the previous week, as junior Cassie Raines returned after being sidelined with an injury.
Junior Molly Ryan and Raines finished sixth and seventh, respectively, with times of 20:00.98 and 20:04.92, and sophomore Abby Onnen completed the top 10 after clocking in at 20:09.46.
"I think they did phenomenal. Abby, she passed a couple of (Shawnee Mission) Northwest girls at the end, and she did so good," Kasunic said. "I think we were really put together as a team today, and we were just really excited to go in there and crush it. I think we did just that, and I was really proud of them."
Freshman Keagan Stiers (27th, 20:51.60) and junior Cassie Davis (34th, 21:36.47) rounded out the SM North first-place squad, which will run at the Class 6A state meet Saturday at Rim Rock Farm. The Indians scored 28 points to edge SM Northwest by 12 tallies.
"I'm so excited to see what we can do at state now," Kasunic said. "I'm so proud of everybody and all of the fans that came out to watch us and support us. It was great."
The SM North boys squad shared the gut-wrenching feeling of a fourth-place that St. James had in the 5A race. The Indians finished one point away from a top-three finish to miss out on qualifying for state as a team.
The news was not all bad, though, for SM North junior Joseph Coddington. The Indians No. 1 runner set the pace early and kept it throughout en route to a regional title. Coddington clocked in with a time of 16:30.41.
"Ever since regional assignments came out, I knew there was a chance that I could come out and do something big," Coddington said. "After last week, it makes it so much sweeter."
Coddington was disappointed with his race at the Sunflower League meet, but he kept his train of thought forward while preparing for the regional meet.
"I talked to coach (Aaron Davidson) about how to plan and execute it perfectly," Coddington said. "I''m so happy right now."
Coddington and sophomore Logan Jiskra (15th, 17:24.94) qualified individually for the state meet.
SMNW girls, boys finish second
The aforementioned Born coasted to another meet victory, as she beat out Kasunic for the regional title with a time of 18:21.17.
"I felt really good," Born said. "The entire time, I was just trying to get in a good place for my team so we could make it to state."
Born's individual place was not in doubt after she separated herself from Reed, and she accomplished her goal of helping her team clinch a berth to the Class 6A state meet.
Freshmen Gracie Goodpaster and Kiara Stamati placed fifth and eighth, respectively, with times of 19:56.54 and 20:07.33 to join Born in the top 10.
"We all ran great," Born said. "Our goal was to make it to state, and we did that. I'm feeling good."
The SM Northwest girls squad was rounded out by senior Sarah Scott (11th, 20:09.94), Camille Henderson (15th, 20:17.33), freshman Amy Kowalczewski (26h, 20:45.60) and sophomore Abby Winter (29th, 20:58.87).
The SM Northwest boys team matched the second-place finish of the Cougar girls.
Junior Michael Scott paced the Cougars with a time of 16:48.29, which was good for a fourth-place finish.
"I felt pretty good," Scott said. "I started a little fast and died down at the end, but overall I liked it."
Senior James Lang and junior Eric Maxon also cracked the top 10 in eighth and ninth, respectively. Lang came in at 17:05.33, while Maxon was right on his tail at 17:11.60.
Junior Luke Sabus (11th, 17:20.06) was just outside of the top 10, while sophomore Spencer Kaleko (30th, 18:01.51) and junior Gavin Benoit (31st, 18:01.95) capped off the second-place finish for SM Northwest.
The Cougars posted a score of 62 to finish three points behind regional champion SM East. Northwest finished 10 points ahead of SM South in a tightly-contested boys race.
Scott set out the goal of a top-five team finish at state following the regional race.
Mill Valley boys second, girls third
Sophomore Greg Haynes was the only Mill Valley boys cross country runner who finished in the top 10, but the Jaguars still placed second to qualify for the Class 5A state meet.
Haynes was eager to spike up again after being frustrated with his race at the Eastern Kansas League meet, and made up for it by placing seventh overall with a time of 16:43.60.
"I needed to kind of get a redemption race after my last race at Blue Valley," Haynes said. "I had to get a redemption race here, and I would say I definitely did that today."
Several Jaguars were knocking on the door of a top-10 finish, as junior Tyler Coad placed 11th (16:54.84) and junior Gavin Overbeck (16:58.74), freshman Nick Schmidt (16:59.71) and seniors Braden Shaw (17:00.12) and Maxwell Jones (17:03.63) took 13th through 16th. Senior Jakob Coacher (28th, 17:43.98) concluded Mill Valley's regional runner-up team.
"I think that the team did really well. We did what we were supposed to do," Haynes said. "We just kind of put ourselves up there in pack up against Blue Valley Southwest because I know they were pretty close behind us at that last meet. That was the team to take down."
The Jaguars finished with 60 points to come in at a distant second behind Aquinas — who nearly had a perfect score with 20. Mill Valley edged BV Southwest by 22 points.
After a fourth-place finish at the state meet last year, Mill Valley is shooting for a place on the podium.
"I'm pretty confident, and I think we'll all do pretty well as a team," Haynes said.
Beating Blue Valley Southwest was on the forefront for the Mill Valley girls squad as well. The Mill Valley girls ran to a third-place finish, as they edged BV Southwest by 13 points to earn the last state-qualifying berth from the 5A regional.
"Last year, we were pretty upset when we weren't able to go as a team," junior Britton Nelson said. "So this year, we've been talking it up a lot with the freshmen and getting them all really excited for this. We were really prepared. We just took advantage of our training today, and we all did what we needed to do to get there."
Nelson notched a third-place individual finish after clocking in at 19:22.75. The Mill Valley junior challenged herself by going out with the Aquinas duo of Olivia Sovereign and Magaret Pigott. While Nelson fell of the pace of set by the Saints' top runners, the aggressive race paid off with a personal-record time — even though she didn't know it when she crossed the finish line.
"I felt pretty happy with myself," Nelson said. "I'm not quite sure what my time was, but I was glad that I was able to stay with them for most of the race. It was pretty good to have them help me set the pace and have somebody ahead of me to push myself."
Even with being a junior, Nelson has been the leader of a Mill Valley girls team that is loaded with freshmen. Nelson has enjoyed seeing the progression of her teammates.
"It's really cool," Nelson said. "You can kind of watch them learn the sport. With each meet, they run better and perform better and understand how to go out there and compete and place themselves in the meet."
Sophomore Delaney Kemp was the only other Jaguar with varsity experience before this season, and she finished 12th with a time of 20:12.56. Freshmen Emerson Kaiser (15th, 20:26.10), Morgan Koca (24th, 20:44.83), Jenna Walker (28th, 21:26.66), Molly Haymaker (30th, 21:40.48) followed Kemp, and junior Bella Hadden (32nd, 21:44.59) rounded out the third-place finish for the Jaguars.
De Soto's Collins, Hubert qualify for state
The De Soto cross country team had developed into one of the best programs in Class 4A, but the Wildcats got their first taste of a 5A regional meet Saturday.
The Wildcats were unable to qualify their boys and girls teams to the 5A state meet, but had an individual from each squad punch their ticket to run at Rim Rock Farm.
Junior Gabby Collins finished 19th overall in the girls race with a time of 20:34.22. Collins was unsure whether or not she would get one of the five individual-qualifying spots after a rough start to the race.
"I fell at the very beginning and I had a cramp," Collins said. "It wasn't the best race that I've had."
Collins will see even more of what Class 5A has to offer at the state meet, and said the difference of competition between 4A and 5A for cross country is drastic. The De Soto girls squad placed sixth with 151 points.
"There are a lot more girls that run faster and harder," Collins said. "There's a lot more of them than there are in 4A."
Joining Collins at the state meet will be De Soto sophomore Sam Hubert, who placed 20th overall in the 5A boys regional race with a time of 17:12.60.
Hubert led De Soto to a fifth-place finish, as the Wildcats scored 146 points. The De Soto sophomore knew that the Wildcats' chances were slim to qualify as a team for state, but had a good idea of who he needed to contend with to be in the top five individuals not on a top-three team.
"I knew there were a couple of guys that I had to beat, and I knew their times so as long as I stayed in front of them, I knew what I had to do," Hubert said. "It was just a matter of going out there and doing what I had to do."
Hubert said that being aware of the task at hand to qualify individually helped him mentally throughout the race.
"I think it provides a lot of stability for me, just going into the race knowing this is what I have to do," Hubert said. "Running is one of those things where it's all up in the air sometimes. For this one, I was really locked down and I knew what I had to do to so that provides a lot of stability."
The De Soto sophomore is looking forward to competing at the 5A state meet, and is confident the Wildcats will become a contender in their new classification sooner rather than later.
"I think it's good for us," Hubert said of moving from 4A to 5A. "We dealt with it alright this year. We definitely had some guys step up, but I really think we'll be able to step up to the challenge next year."
MCA girls, Boatwright state-bound
The Maranatha girls cross country team earned a trip back to the Class 2A state meet after a third-pace finish Saturday at Cedar Hills Golf Course in Washington County.
Brin Eisele (11th, 22:42), Savannah Shiner (12th, 22:44), Taylor Shiner (15th, 22:54) and Faith Eisele (16th, 22:58) all finished in the top 20 for Maranatha.
Grace Wojcik (21st, 23:39), Audrey Knight (38th, 25:07) and Abby Wright (46th, 25:46) rounded out the top seven for the Eagles.
Austin Boatwright will be making the trip to the state meet with the Maranatha girls team, as he finished fifth in the 2A boys regional race with a time of 17:54.
The 2A state meet will be held Saturday at Wamego Country Club.