Home runs for a little superhero
Baseball derby at
SM

North raises money for youth with rare disease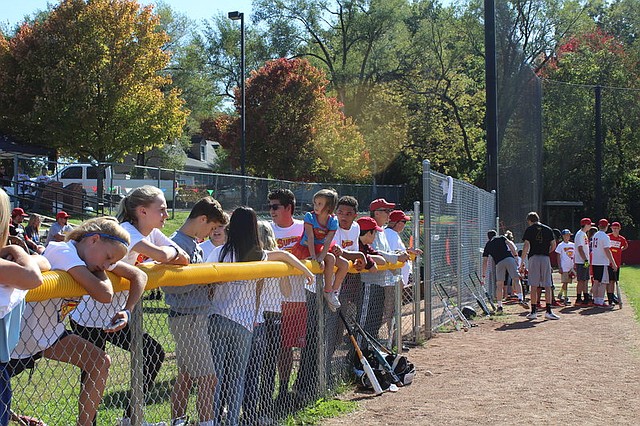 Each crack of the bat was more than just hunger for a home run. It was hope.
Out on the baseball field at Shawnee Mission North High School on Sunday afternoon, around 150 people took their turn to swing at home plate.
Baseballs flew into the sky. Some skidded across the dirt. Others were missed.
Sitting in the crowd, a little boy wearing a superhero t-shirt watched the action with anticipation.
It was all for him. Every hit. Every superhero t-shirt on the field. Every dollar raised.
At the "Bombs for Bo" home run derby, the SM North community enveloped 6-year-old Bo Macan, and his family, with support.
And they certainly need it.
When Bo was a baby, he was diagnosed with a genetic condition so rare, it was named after him.
The condition, "Bo Syndrome," includes Type 1 diabetes, chronic diarrhea, growth hormone deficiency, thyroid problems, seizures, and chronic lung disease, among other disorders.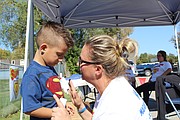 Bo and his Roeland Park family have traveled all over the country to see medical specialists.
It was during one of those hospital visits that someone dubbed him "Superbo." The nickname fit the spunky kid so well, it stuck.
"On good days, Bo is a normal 6-year-old boy, but there are days when he doesn't feel good enough to get off the couch," said his mom, Carolyn Macan.
The home run derby on Sunday sprouted from a suggestion by the head softball coach at SM North, Julie True.
She found out about Bo's condition from his 15-year-old sister, Leksi, who is on the school's varsity softball team.
"I wanted to help and I knew others would too," said True. "Shawnee Mission North is a very tightknit community. We look out for each other."
All proceeds from the derby will help pay for the Bo's medical treatment and his family's travel expenses.
It cost players $5 to enter the"Bombs for Bo" derby.
One of the hitters at the event came a long way from home.
Ethan Bryan drove all the way from Springfield, Mo. to participate.
After all, he's a special part of Bo's life.
He recently wrote and published a children's book about Bo, titled, "They Call Me Superbo."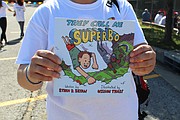 The illustrated book centers around the Roesland Elementary School first-grader and the former Royals star he was named after, Bo Jackson.
Bryan randomly came across Bo's story online one day in a moment of fate.
"I immediately had a feeling that I needed to do something for Bo," said Bryan, a baseball writer. "Before that moment, I never would have imagined I'd write a children's book. I can barely draw a stick figure."
With the blessing of Bo's parents, Bryan reached out to an art student from Missouri State University for illustrations, and set upon an exciting sports literary journey.
He obtained permission from Bo Jackson, to use his name and likeness, and he went through the proper legal channels with Major League Baseball to use the Royals' logo.
"It was work, but it takes hard work to make good things happen in the world," Bryan said. "It was an incredible learning experience."
Copies of "They Call Me Superbo" are available for pre-sale until Thanksgiving. The book can be ordered, via donation, on the Macan family's website.
Because of MLB copyright regulations, the book is only allowed to be printed once.
While writing the book, Bryan solely corresponded with the Macan family via phone and e-mail.
The "Bombs for Bo" home run derby was his first time meeting the family.
"Bo is so cute and he seems to be having a great time," Bryan said. "We get to do this derby and celebrate and be happy, but Bo has to deal with his disease every single day."
Carolyn Macan was floored by the huge turnout at the derby.
Every smile and hug, some even from strangers, meant the world to her and her family.
"As a parent, you never expect to have a sick child," she said. "So to be in the position where you need to reach out to the community is very overwhelming.
The Shawnee Mission North community has been so supportive and I can't thank them enough."
To learn more about Bo's condition, or to order a copy of "They Call Me Superbo," visit the Macan family's website at www.macanithappen.com.
More like this story