Silence of the trains: city, neighbors work together to alleviate railway noise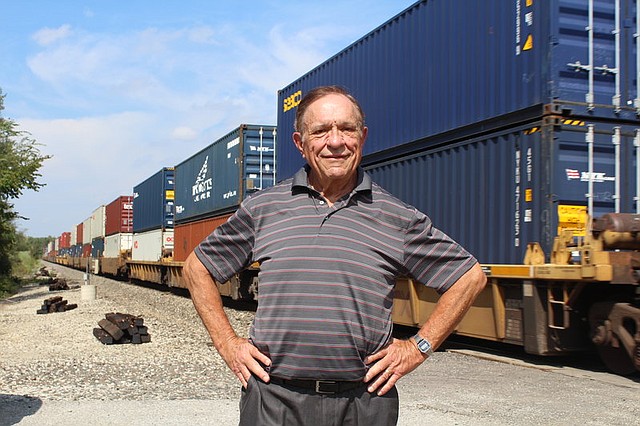 Five hundred train horns blasting per day.
That is the reality for several western Shawnee subdivisions sitting within a few miles of a bustling railroad track.
But soon, that reality will become a memory.
With help from the city of Shawnee, neighborhood activists are planning to restructure two railroad crossings where 89 passing trains per day are required to blast horns.
There are currently two crossings causing the most noise, said Jack Tredinnick, a member of the Brittany Ridge subdivision railroad horns committee.
The first one, which sits at 73rd Street and Martindale, is a private crossing which goes straight into homeowner David Hoehn's driveway.
The second crossing, at 75th Street and Martindale, is public.
According to City Manager Carol Gonzales, city officials want to turn the 73rd Street crossing into a public crossway, complete with a typical warning gate.
Creating a public crossway would eliminate the need for the train conductor to blast a horn three times at the intersection.
But the city's plan hit a snag this summer.
According to Federal Railroad Administration (FRA) regulations, the median from the street to the railroad needs to be 60-feet long.
The city can only fit a 46-foot median.
Waiting to be granted an exception from the FRA took a lot longer than city officials and neighbors hoped, so Councilman Brandon Kenig got involved.
He reached out to U.S. Senator Jerry Moran, to see if the elected official could nudge the process a little quicker along.
It worked.
Last week, the city of Shawnee received an official letter granting it the exception.
As for the 75th and Martindale crossing, the city hopes to close it, by purchasing a piece of adjacent land to Hoehn's property. The city would give part of that land to him and another part of it to Johnson County Parks and Recreation.
The snag with that solution is that a creek separates Hoehn's current land from the land the city wants to give him. To access his new property, he would need a bridge.
The city of Shawnee is unable to use city money to fund a private bridge for a resident, however.
So, that's when Tredinnick and his neighbors got involved.
They went door-to-door in their neighborhood, and surrounding subdivisions, raising money to build Hoehn a bridge.
The response was overwhelming, Tredinnick said.
While they waited for the FRA to approve the median exception in June, the railroad horns committee collected $44,000 worth of pledges for Hoehn to build his bridge.
Overall, they received 71 different pledges, ranging from $50 to $2,000.
"These are people who want quiet at night and to be able to enjoy their patios and talk to their family in their yards," Tredinnick said. "These are middle class folks who are policemen and teachers and nurses, pledging their hard-earned dollars."
Now that the exception has been granted, the committee will cash in those pledges from residents.
Hoehn is pleased the neighborhood has been working to resolve the issue in a friendly manner.
"It's been a very amicable experience," Hoehn said. "I think it's great the community came forward to put money forth for the bridge."
He doesn't mind the train horns, but he thinks it's important to be a good neighbor, which is why he's on board with the plans.
"I understand how it can be a nuisance for people to cover their ears and stop talking when the train goes by," he said.
Despite the train noise, both Hoehn and Tredinnick agree their neighborhood is one of the best in Shawnee.
It's safe and affordable, Tredinnick pointed out.
Children are often riding their bikes in the street and neighbors become friends.
"We love being out here," he said. "There's beautiful views, great people, and it's a very diverse neighborhood, from race to age. It's a microcosm of America."
He's also been impressed with how the city of Shawnee has bent over backwards to mitigate the train horn problem.
Ironically, the loud screams of the trains is what brought their neighborhood closer together, as they worked towards finding a resolution.
"We're going to be as good of friends after all this as we ever have been," Hoehn said, of Tredinnick. "The one thing that is very important to me is my neighbors."
Now that the project is moving full steam ahead, Tredinnick and his neighbors are excited to see the wheels start turning.
"The biggest hurdle to cross is over, but there's still a lot of work to be done," he said. "But it's all very doable."
The next step for the city is to meet with BNSF Railway to develop a timeline for the construction of the 73rd Street crossing.