All-around excitement: Gymnastics to remain in
SMSD

for 2017-2018 school year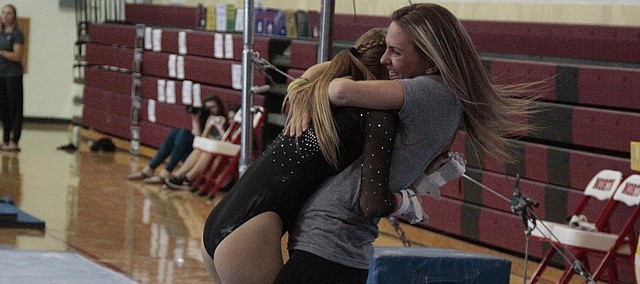 A little more than a month after Shawnee Mission School District officials sent out a letter to parents of SMSD high school gymnastics about the possibility of cutting the sport after the 2016 season, a letter with much more encouraging news was released Sunday.
Shawnee Mission School District assistant superintendent Richard Atha and SMSD director of student activities and athletics Richard Kramer sent out a letter via email to SMSD gymnasts and their parents to confirm that the sport would be back for the 2017-2018 school year.
"My phone has been blowing up. The girls are excited," SM North and SM West coach Ann Heinlein said. "The parents are excited. Us three Shawnee Mission coaches are ecstatic that these girls have the opportunity again."
While the SMSD gymnastics programs will return another season next fall, the status of the sport in the district beyond next year is still to be determined. District officials and coaches will meet to set benchmarks in efforts to increase participation for the five Shawnee Mission teams.
Heinlein is confident that the number of gymnasts will go up district-wide.
"The way I read it is that this is not a long-term decision," Heinlein said. "This is a short-term decision, and we'll see if we can grow our programs and grow our sport, which I don't think we'll have a problem doing."
Heinlein's confidence was bolstered Saturday, as around 50 kids participated in a district-wide youth gymnastics clinic.
"The clinic had a great turnout," Heinlein said. "Everybody was excited, and it went really well. We were just amazed by the outpouring of support."
Saturday's clinic was held just one week after the 44th annual high school state meet. More than 100 former gymnasts, coaches and judges came to the state meet, which the Kansas State High School Activities Association also labeled as a celebration of 44 years of Kansas high school girls gymnastics.
Heinlein said that gymnastics has been well-supported for as long as she has been involved with the sport, but indicated there was a major uptick in the backing of it over the past month.
"The cutting of the sport has always kind of been on the table for the last 10 years. It's always been talked about, but the reality of it has not," Heinlein said. "When the reality of it was brought up that, 'Hey, this really is a possibility. We really could be done this year.' It really brought everybody out to go, 'No. No. No. No. No. We really don't want this to end.'"
Heinlein added, "Just seeing the outpouring of support from parents and from gymnastics and from complete strangers who have nothing to do with the sport, it is amazing. There are football players that are like, 'No, don't cancel it.'"
Along with being gracious toward everyone who has shown support for the sport, Heinlein lauded the efforts of Etha and Kramer for taking their time before making their final choice Sunday.
"We know that it was a hard decision," Heinlein said. "We're just grateful that Dr. Atha and Richard Kramer made that decision carefully. If affects so many, and it was a hard decision to be made and I'm sure not easy for that to be on their shoulders."
Had gymnastics been cut from all five Shawnee Mission schools, only Free State, Lawrence High, Newton, Emporia, Olathe South, Olathe East, Olathe North and Olathe Northwest would have been the only schools with gymnastics teams across the state, and KSHSAA requires eight teams to put on a postseason meet.
Heinlein noted that a similar letter was sent out to the parents and gymnasts of the Olathe schools on Friday, and is optimistic about the overall future of the sports in Kansas.
"We're grateful for these girls to have an opportunity to participate again. We're setting some benchmarks in place so we can continue to grow our programs," Heinlein said. "We're excited. It's a good day."