Suspect arrested in connection to Sunday's Walmart attack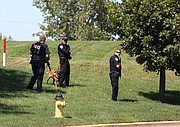 The second man who allegedly attacked a woman loading her infant into a car seat on Sunday afternoon at the Shawnee Walmart has been arrested.
In a news release late Tuesday afternoon, Major Dan Tennis of the Shawnee Police Department said police arrested 27-year-old Arthur Fred Wyatt III of Overland Park, Kan..
The Johnson County District Attorney's Office stated Wyatt has been charged with attempted first degree murder, attempted aggravated kidnapping, and attempted aggravated robbery.
The incident began Sunday afternoon when two people were found shot in the Walmart Supercenter parking lot, located at 16100 West 65th Street. The shooting left a good samaritan wounded and one attacker dead.
Tennis said officers were called to the store's parking lot at about 1:27 p.m. Sunday afternoon on a report of shots fired.
"A female was putting her infant in a car seat in the Walmart parking lot, south of the garden section, when she was struck in the back of the head with something by two suspects," Tennis said. "A good samaritan stepped into help and was shot multiple times."
A second good samaritan stepped in and used a gun of his own to fire back at the suspects, killing one of them. The second suspect ran east from the Walmart.
Police set a large perimeter from the store east to Lackman Road and a K-9 team searched the area. The second suspect involved in this incident was not located at that time.
Tennis says the female victim, a 39-year-old, Kansas City, Kan. woman, has been released from the hospital. She had just finished shopping at the Walmart when she was attacked by two men who she does not know.
The good samaritan who was shot has been identified as a 33-year-old Kansas City, Mo. man. He remains hospitalized after surgery on Sunday night.
The second good samaritan, who shot one of the suspects, has been identified as a 36-year-old De Soto man. Police announced he has been interviewed and released.
Police have identified the deceased suspect as John W. Simmons III, 28, of Kansas City, Mo.
---
Operation 100 News provides overnight news coverage for the Shawnee Dispatch. Follow on Twitter for real-time updates.