Shawnee senior conquers Mount Kilimanjaro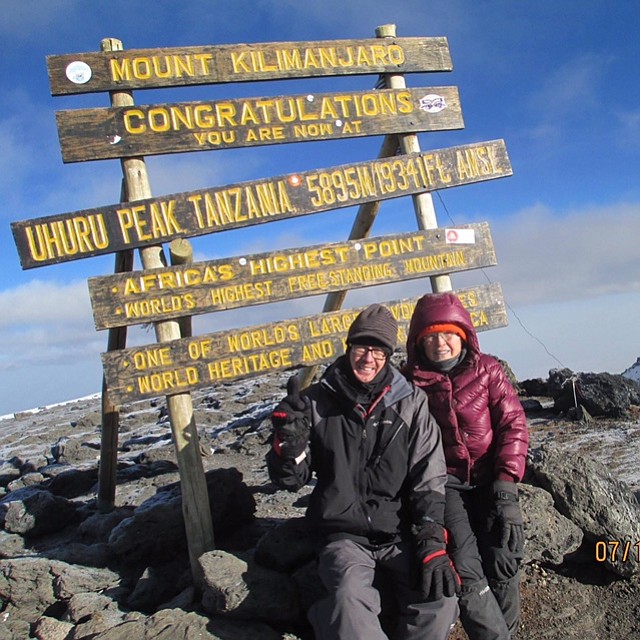 This summer, 71-year-old Judy Gerling hiked to the top of the tallest freestanding mountain in the world.
"Everyone is in awe I did it, even me," she said, with a laugh. "When I finally reached the top and stared at the breathtaking sunrise before me, all I could think was 'thank you, Lord.' I prayed all the way up that mountain."
For those who know Gerling, however, her feat is not very surprising at all.
The outdoorsy Shawnee resident is an avid hiker who travels all over the world.
"I don't like the confines of a house," she confessed. "Being in nature fills my senses."
The retired RN, who spent 46 years in the nursing field, has also been to more than 30 national parks with her Kansas City area hiking group.
Gerling first got the itch to climb Mt. Kilimanjaro in 2012.
So, she hopped on a plane to Africa that year, eager to face the challenge.
But she didn't research her route to the summit properly and she only made it 17,000 feet.
The Tanzanian mountain stands at 19,341 feet above sea level.
"I reached a point where I thought I was going to die," Gerling said.
The active senior flew home, satisfied she at least gave it a shot.
When her 45-year-old son, Mark, asked her to join him on a climb up the mountain this past July, she agreed, but only if they went a different route than she went last time.
He readily agreed.
There are seven routes to the top of Mt. Kilimanjaro, with each one being unique in length, steepness, and difficulty, Gerling explained.
The route she took her with her son was longer than her previous route, but it was also much safer.
Their mountain-hiking group was an eclectic mix, with the youngest climber being 14-years-old and among the oldest being a 68-year-old woman and, of course, Gerling.
Accompanying the group were several porters, who carried their belongings up the mountain for them. At mealtimes, they cooked carb-heavy food, such as pasta, for the exhausted hikers.
"The porters called me 'Mama Simba,' because they think I'm tough," Gerling said, her eyes twinkling in amusement.
Climbing up the mountain, the hikers encountered different climate zones.
They started out the 30-mile journey in shorts and t-shirts.
But as the days went by, they weaved through meadows and tall grasses; a semi-desert setting; and eventually, as they inched closer to the peak, they bundled up in coats and shivered through brittle arctic temperatures.
"The scenery was absolutely gorgeous the entire way up," Gerling said. "At a certain point, there were clouds all below us and it was eery. It was like walking through heaven."
But not every hiker in their group made it to the coveted peak.
Out of the eight of them, only three reached the top. They included Gerling, Mark, and the 68-year-old woman.
"No one is quite sure how they'll react to altitude," Gerling said. "You can train all you want, but altitude could take you down. It's the nemesis of climbing Mt. Kilimanjaro."
Fortunately, she had very little problem with the altitude adjustments, but many others aren't as lucky.
"In our group, some were short of breath and others were vomiting and a few got really bad headaches," she said. "You can get quite ill climbing this mountain. There are deaths."
Although she couldn't prepare for the altitude, Gerling did step up her endurance training in the months leading up to the mountain hike.
She climbed 151 flights of stairs in an hour, three times per week, at the gym. She spent hours walking the hills of Shawnee.
Nothing could have prepared her for the bitter chill and outstretch of beauty she encountered when she finally reached the peak, however.
"It was cold and windy and the air was so thin, you had to work hard to breathe at that point," she said. "You stay long enough to take a few pictures, enjoy the view, and then you head back down. But it's worth it."
Although the view from the top is one she will never forget, Gerling emphasized that the best part of her trip was simply spending quality time with her son.
"We shared a lot of laughs," she said, fondly. "It was a wonderful bonding experience."
When both mother and son made it back to civilization, they raced to their hotel rooms for only one thing: hot water.
"We didn't have a shower for eight days on that mountain," she said, with a laugh. "I needed to feel human again."
The adventure didn't stop there for Gerling though.
Mark, who owns a travel agency in Palm Coast, Fl., took her and the other group members on a dazzling safari trip.
And afterwards, Gerling received the best gift of all: she met her future grandson.
Mark and his wife are in the process of adopting an 8-year-old orphan, named Liadi, from Tanzania.
Mark said they hope to bring him home to Florida by the end of the year.
The couple also have a 6-year-old son named Brady and 3-year-old daughter, Adi.
Mark added that the entire trip was one very special to his heart.
He's proud of his mom for her bravery and adventurous spirit.
"She's in good health and good fitness and good stamina," he told the Dispatch during a phone interview. "I wish I had her energy."
Gerling is proud of herself too.
After all, she accomplished a feat most people will never experience.
"I feel very blessed that I have these opportunities for travel and that I physically can still do these things," she said. "And I just want people to know that Everest is not on my bucket list. Mt. Kilimanjaro will be the highest I will climb in my lifetime."