Sunflowers are celebrated at the upcoming De Soto art festival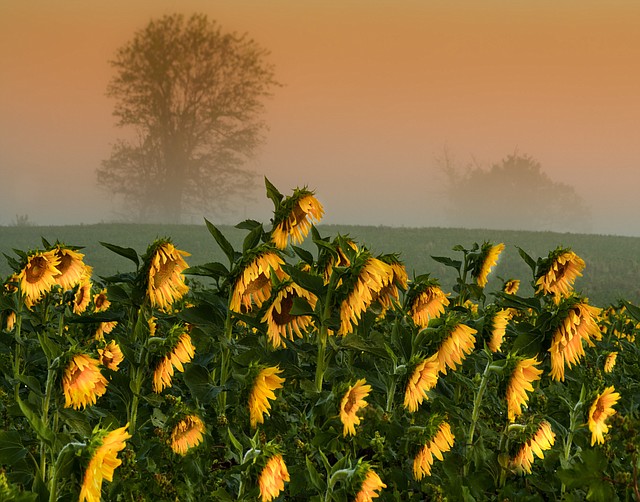 The De Soto Arts Council is continuing its strong tradition of offering a family-friendly weekend of fine arts and fine crafts, live music, food and beautiful sunflowers at the Sunflower Artfest, which will be held from Sept. 23 to 25th at The Barn at Kill Creek Farm in De Soto.

Hours are 5 to 7 p.m. on Friday, Sept. 23; 10 a.m. to 7 p.m. on Saturday, Sept. 24; and 10 a.m. to 5 p.m. on Sunday, Sept. 25.
The Barn is located at 9200 Kill Creek Road, De Soto, on the northwest corner of Kansas Highway 10 and Kill Creek Road.
Admission and parking are free.
This is the arts council's 10th annual show and seventh as the Sunflower Artfest.
Sunflowers became the theme of the show in 2010 when the council teamed up with Darrel Zimmerman, owner of the farm.
Zimmerman planted sunflowers as a fundraiser for the Rotary International's PolioPlus program, which was implemented to help eradicate polio worldwide.
Visitors to the farm could cut their own blooms for one dollar a stem with all proceeds going to the PolioPlus program.
The types of sunflowers have changed over the years based on weather, hungry deer and sunflower varieties.
This year you can still donate one dollar per stem and proceeds will continue to benefit the Rotary program.

As a special tie-in with the natural sunflowers, the Artfest includes a sunflower exhibit with all artwork displaying a sunflower theme.
Prizes are awarded and the work given first place honors is used as the poster and publicity image the following year.
A category for Plein Air art is also part of the show, and artists use the farm and sunflowers as inspiration for their work.
Those pieces are also displayed during the weekend. The popular annual collector sunflower posters will also be for sale.
Past winners of the sunflower exhibit will have booths or art at the show. They include Dick Stine, Linda Lane, Jim Walker, Michelle Wade and Chun Wang.
New this year is a portion of "The World's Largest Sunflower Collection," from Bill Nicks, of Lenexa.
Nicks has over 3,500 eclectic items each with a sunflower in the design, from 1880 perfume cards to manhole covers.
A portion of that collection will be at the show.
Visitors to the Sunflower Artfest will find a variety of art mediums to explore, including pottery, oils, acrylic, pencil and watercolor, copper wire trees and photography.
Artists in this year's show are Sharon DeFreece, Carol Rubsam, Kathy Horniman, Carolyn Dvorak, Pat Young, Rose Burgweger, Danny Lane, Linda Lane, Cynthia Schmidt, Lee Jost, Cynthia Heller, Jim Walker, Dick Stine, Michelle Lynn Fisher, Mike Ash, Chun Wang, Jana Kimberling, Carlos Cabanas, Monique Chartier and art students from De Soto High School.
Judging this year's show is Jamie Lavin, a third generation artist and framer from Gardner, Kansas.
His art includes a variety of mediums but he enjoys working most with oils and acrylics. He won Best of Show in the Symphony of the Flint Hills in 2008 and continues to paint, do consulting work and is Director of Buttonwood Art Space.
Musicians this year include Jeanne Fizell, House Jumpers Band, Up Past Nine, Stranded in the City, the Happy Wanderers polka band, Rich Berry, Simon Couch, Linda Thomas and Dan Delaney on hammered dulcimer and guitar, and Larry and Rosie Inman.
Another important aspect of the show is the number of local businesses and groups involved. Bill Frenzel of Frenzel's BBQ and Catering will be there and Grace's sunflower cookies will be available.
Baked goods made by members of the De Soto Baptist Church are also on the list.
De Soto's Pioneer 4-H Club will have a children's activity tent and Bowlin Farms will be there with fresh, locally-grown produce. Boy Scout Troop 54 helps with the show and of course, Rotary.
For more information, updates and to volunteer, see the De Soto Arts Council website at www.desotoartsks.org or call Carrie Dvorak, show coordinator, at 913-515-7950.