Face to Face: Ryann Doyle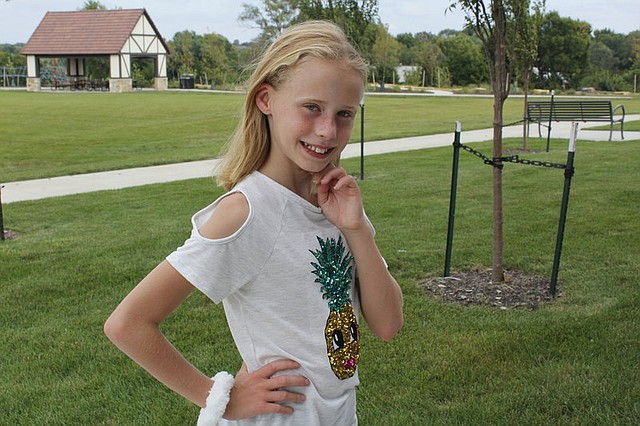 Name: Ryann Doyle
Born: Overland Park
Family: Dad, Kelly; mom, Megan; 9-year-old sister, Reese; 7-year-old sister, Reagan; and 2-year-old dog, Levi.
Dream job: Ryann hopes to be a meteorologist one day. "Kalee Dionne (former KSHB meteorologist) inspired me because she made it seem like it was the best job in the world."
Digging deeper: She may not be announcing the weather yet, but Ryann was featured on nearly every news station in Kansas City last week after making waves at a recent Shawnee City Council Committee meeting.
Councilmembers and residents in attendance were both charmed and impressed by the mature 11-year-old's professional and heartfelt presentation, in which she encouraged the city to install a sidewalk on 71st Street, towards Erfurt Park.
"This summer, I was riding my scooter to the park in the grass and I was sliding all over the place and that's when I realized there needed to be a sidewalk," Ryann told the Dispatch. "It was not safe at all. It was scary."
So, she went door-to-door in her neighborhood, asking her neighbors to sign a petition. She garnered 54 signatures.
She's not surprised by the support. After all, most of her neighbors find it tricky to walk or bike to Erfurt Park as well.
"The park is great, but putting a sidewalk there will make it amazing," Ryann said.
It seems her hard work is paying off.
At its meeting last week, the Planning Commission voted unanimously to approve the Capital Improvements Plan and it also voted unanimously that the governing body consider an amendment to the CIP to include a project that improved accessibility along 71st Street, between Gleason Road and Belmont.
If you missed Ryann at the council committee meeting, you can meet her at the Sept. 26 council meeting where she will be acting as a guest councilmember.