Big changes in store for Nieman Road corridor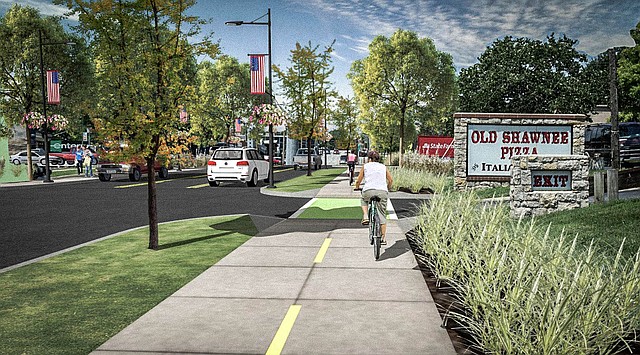 The Nieman Road corridor in downtown Shawnee will soon be getting a makeover.
The city council recently approved a final report from consultants, which recommends turning Nieman Road, from Shawnee Mission Parkway to 55th Street, into a three-lane road with a multi-use side-path on one side.
The council also voted to not proceed with temporary re-striping of the street and it directed staff to go ahead with the preparation of a final scope of work for constructing the project.
The consultant team— which consists of staff from BHC Rhodes, McCurdy Engineers and RDG Planning and Design—started working on the report several months ago.
After holding public meetings and conducting an online survey, the team concluded a three-lane roadway with a multi-use side-path was the best decision.
Other options suggested to the public last spring had been to turn Nieman Road into a three-lane section, but provide a shoulder or bike lane instead, or keep the road four lanes, but create aligned left turns at Johnson Drive.
Most of the city council members agreed the side-path was a good choice.
After all, the city had hired consultants to look into the Nieman Road improvements as a way to make the downtown corridor more pedestrian-friendly and attractive.
Several members of the governing body have stated in the past they hoped road improvements would attract more businesses and redevelopment in that part of town.
Not all council members were on board with forgoing the temporary re-striping, however.
Councilmen Mickey Sandifer and Eric Jenkins voted against dismissing the idea.
"I still believe we need to do the re-striping first because we have mentioned that to the people in the public," Sandifer told the council.
But Councilman Jim Neighbor disagreed.
With all the major stormwater projects coming up soon for that stretch of Nieman Road, he didn't think re-striping was necessary.
"The road for two years is going to be torn up with a lot of detours," Neighbor said. "I don't feel it's appropriate to spend the money on the temporary re-striping."
Now that the report has been accepted, the city will begin design work and bring final recommended design and construction cost estimates back to the council.
More like this story