Johnson County courthouse supporters advocate for new buildings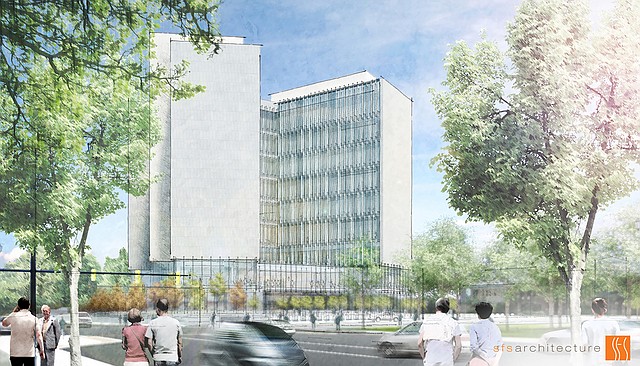 Aging infrastructure. Prisoners walking in the hallways alongside victims. Hallways and jury booths too narrow for wheelchairs to pass through.
Those are just a few of the concerns Johnson County District Attorney Steve Howe pointed out to local media representatives during a recent tour of the deteriorating Johnson County Courthouse.
The tour was part of a Vote Yes for JoCo Public Safety press conference on Friday afternoon.
The citizen-led group, Vote Yes for JoCo Public Safety, is using private donations to promote the need for a new courthouse and coroner facility.
This past spring, the Johnson County Board of County Commissioners proposed construction of the two buildings, which would be paid for with a new quarter-cent, 10-year public safety sales tax, if approved by voters this November.
The estimated cost of a new courthouse is $182 million and it would take four years to construct.
If the public safety sales tax does not pass, the county would renovate and add on to the existing courthouse, costing an estimated $216 million.
"What sold it to me was the numbers," said District Attorney Steve Howe during a press conference. "It will cost more to repair this building than build a new one. When it comes to dollars and cents, the people of Johnson County expect us to be resourceful with their money."
The current courthouse, built in 1951, is deteriorating and its infrastructure reflects a bygone era, Howe pointed out to the Dispatch.
Large cracks sprinkle the walls and water damage decorates the ceilings throughout the building.
During heavy Olathe rainstorms, water leaks throughout each floor of the eight-story courthouse.
Duck tape holds extension cords to the floor and electrical wiring tangles in various places in many 1950s-built courtrooms, which aren't equipped to handle today's technology.
Outside Howe's office, a 30-year-old sewage pipe above recently broke, forcing water to leak onto the carpet and desks, attracting sewer flies. The problem got so bad, two courtrooms now have bug zappers.
But one of the most alarming problems the courthouse faces is public safety, Howe said.
Right now, because of the current configuration of the courthouse, it is difficult to keep inmates, jurors, victims, and witnesses apart.
Standing in one of the main hallways in the courthouse, Howe grimly recalled how six years ago he was walking in the same spot with the parents of a teenage girl who was brutally murdered. As they turned the corner, their daughter's killer stood before them, just feet away.
"There have been blow-ups in these hallways," he told the Dispatch. "We've had to shut down this hallway to escort gang murderers and other very high risk individuals as well."
The new building would address those problems, Howe emphasized.
The proposed 28-courtroom courthouse would sit across Santa Fe Street directly north of the existing location and west of Olathe City Hall.
It would separate inmates and criminal defendants from victims, witnesses, jurors, and the public. It would also be ADA compliant.
A coroner facility is also an important need for the city, both Howe and BOCC Chair Ed Eilert stated during the press conference.
Currently, Johnson County does not have one. Autopsies are conducted at a nonaccredited pay-for-use facility in Wyandotte County.
A new coroner facility in Johnson County, proposed for 119th Street and Ridgeview in Olathe, would cost $19 million and provide increased capacity for conducting autopsies, ability to control prioritization of autopsy work for the county, and on-site toxicology and real-time data for reporting epidemics and crime.
Both buildings would position Johnson County for the next 75 years, as the county expects to add 10,000 residents each year, Eilert said.
For more information about the proposed courthouse and coroner facility, visit www.jocopublicsafety.org.