De Soto moves up to 5A for
KSHSAA

classification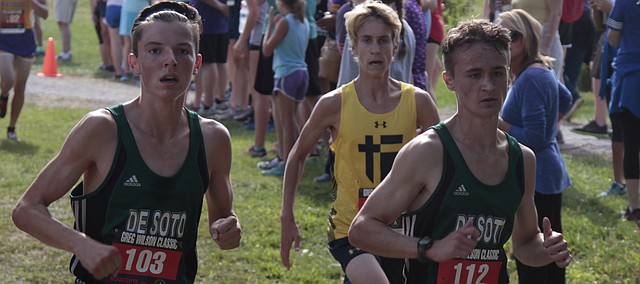 After narrowly missing the cut to move up to Class 5A for the 2015-2016 school year, De Soto High School officially received word from the Kansas State High School Activities Association Monday that the Wildcats athletic programs with exception of football would be making the jump up from 4A based on the current enrollment of the ninth through 12th graders.
De Soto's enrollment shot up from 762 to 854 students from the 2015-2016 to the 2016-2017 school years. The Wildcats were joined by Kansas City-Sumner Academy in making the move from Class 4A to 5A.
De Soto cross country coach Katie Wilber believes that the change in classification will only make her runners and the other Wildcats sports programs better. Wilber anticipated the switch to Class 5A after De Soto was the second largest school in 4A last year.
"The competition in 5A is great. It's great in 4A, but it's just a new group of people to race against," Wilber said Sept. 3 at Greg Wilson Classic — the Wildcats' first meet of the season. "It's people that we see in our weekly meets, and not just at state. They're people that they're used to competing against, so I think it will be good."
Wilber's boys cross country team was one of the most successful programs at De Soto last year, as the Wildcats were Class 4A state runners-up. De Soto junior Kason Jackson knows that it won't be as easy for the Wildcats to qualify as a team or to make it individually to the state meet, but he's looking forward to the task at hand.
"We know it's going to be tougher, but we're always up for a challenge," Jackson said. "It will just make us better in the end."
Mill Valley barely misses move up to 6A
There were no other changes in classifications for the other Shawnee-area schools — Shawnee Mission Northwest, SM North, Mill Valley St. James Academy and Maranatha Christian Academy, but it was a close call for the Jaguars.
Mill Valley and St. James Academy will remain in Class 5A as they both continue to transition into the Eastern Kansas League. Mill Valley just missed the cutoff for jumping up to Class 6A, as the Jaguars have 1,362 students for the 2016-2017 school year. Mill Valley is the largest school in Class 5A, and only has 26 students less than KC-Wyandotte — Class 6A's smallest school.
St. James Academy saw a significant jump in enrollment from last school year. Nine hundred and thirty-six students are enrolled at St. James for the 2016-2017 school year — 75 more than 2015-2016.
SM Northwest, SM North remain in 6A
Northwest and North will both remain at Class 6A with respective 1,734 and 1,532 students. Northwest saw an enrollment spike of 48 students from last school year, while North has eight fewer students.
Northwest has the third largest enrollment out of the Shawnee Mission high schools, coming in behind SM West (1,774 students) and SM East (1,750).
North came in at the fourth largest Shawnee Mission high school, and SM South was fifth with 1,485 students.
MCA stays at 2A
Maranatha inched closer to being one of the largest schools in Class 2A. After an increase in enrollment from 140 to 145 students from last school year, Maranatha is the fourth largest school in 2A — only trailing Hillsboro (156), Alma-Wabaunsee (150) and McLouth.