Broken Arrow students celebrate 'whirled peace'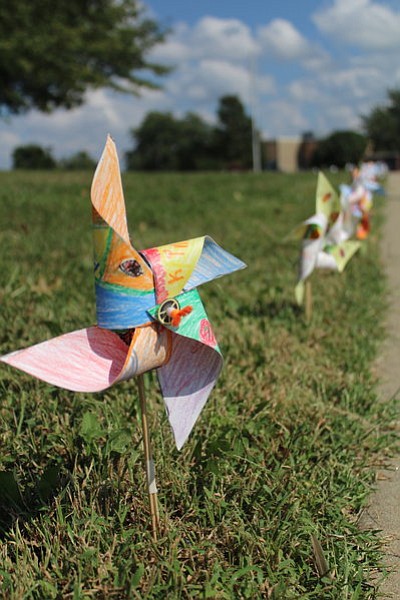 Sprinkled across the sprawling entrance to Broken Arrow Elementary School, hundreds of colorful pinwheels spinned furiously in the early autumn breeze.
Many of them were decorated with peace signs and doves. Others featured rainbows and flowers.
The small pinwheels, lodged into the grass, were the loving creations of the Broken Arrow student body, who made the art project in honor of the International Day of Peace last week.
"A day like this is extremely important to observe," said Laura Porras, the Broken Arrow art teacher. "These pinwheels are an awesome way for people to come together and use art in a positive and peaceful way."
This is the second year Porras has done the Pinwheels for Peace art project with her Broken Arrow students.
She discovered the idea a few years ago while scrolling through Pinterest for inspiration.
According to the Pinwheels for Peace website, the art installation project started in 2005 by two art teachers in Florida as a way for their students to express their feelings about what's going on in the world and in their lives.
The project was not only embraced by their students, but by other art teachers around the world.
During its first year, around half a million pinwheels were planted.
Last year, there were four million.
Broken Arrow students spent the last few weeks constructing their pinwheels, using beads, straws, and bamboo skewers.
"It's complicated," Porras said. "It's not something you can do in one class period. It takes a few."
The elaborate process, however, allows her to sneak in a little engineering lesson.
"We talk about how the straw serves as an axle and the pinwheel is a real wheel, so if it's crooked, it won't spin as well," she said.
Last Thursday morning, after some of her students put their finishing touches on their pinwheels, they walked outside to go plant them in the ground.
While the wind swept their pinwheels into a fury, the students squealed with delight.
"It's really cool to see them spin fast," said Anson Wang, a Broken Arrow fourth grader, as he held up his pinwheel to the sky.
It was also a moment for the students to focus on the message behind their hard work.
"It shows peace to the whole community, which is really important" said Asher Nave, a third-grader. "It was a fun project."
Porras is thrilled the meaning behind the pinwheels has resonated with her students.
After all, that's the most important part.
"Kids need to know their voice can be heard," she said. "It's about sending a message in a positive way."