Johnson County 'bread and butter' of Kansas, says board chairman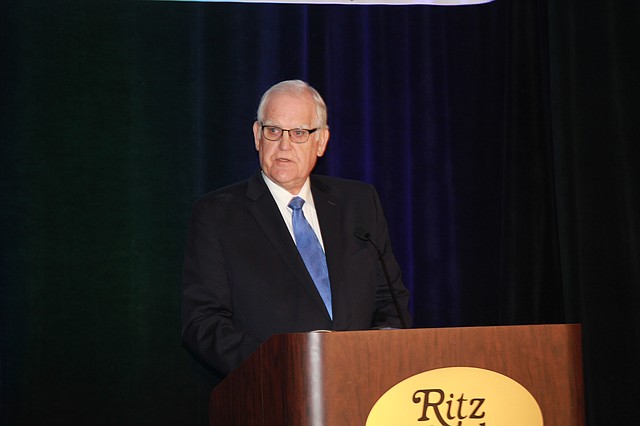 Johnson County continues to thrive.
At least that's the sentiment Board of County Commissioners Chairman Ed Eilert delivered in his 2017 State of the County address last week.
"Our county has long been, and continues to be, the bread-and-butter economy for the state of Kansas and for those seeking careers and job opportunities," he said. "Our economy is far outpacing the state and nation."
He pointed out that Johnson County's unemployment rate declined for the seventh consecutive year in 2016.
At the end of the year, the county's jobless rate stood at 3.1 percent. Kansas was at 3.8 percent; the metro, 3.9 percent and the national rate, 4.5 percent.
He also revealed that for the first nine months of 2016, according to the Bureau of Labor Statistics, 3,181 new jobs were created in Kansas, and 2,680 of those jobs were in Johnson County. In other words, 84 percent of the jobs created in Kansas from Janurary to September were created in Johnson County.
During his speech, Eilert said that in the 2016 community survey, 96 percent of county residents reported feeling safe in their neighborhoods. The national rate is 89 percent.
Ninety-six percent reported they were satisfied with Johnson County as a place to live. The national rate is 83 percent.
Ninety-five percent were satisfied with the county as a place to raise children. The national rate is 79 percent.
Although those numbers are impressive, he emphasized there was still room for improvement.
"It's not enough to say that things are good," said Eilert. "We must keep improving, evolving and pushing forward. Will Rogers summed it up by saying: "Even if you are on the right track, you'll get run over if you just sit there."
He also pointed out the desire to live in Johnson County is strong.
Last year, more than 11,300 single-family homes were sold, which is only 400 short of the record in 2005.
The normal average inventory of homes for sales is six months in Johnson County; today, that inventory is about 2.5 months.
Businesses also continue to gravitate towards the county.
He pointed out that last year, new construction permits for office, retail and industrial buildings also grew, totaling more than 9.9 million square feet with a value of nearly $730 million.
During his address, Eilert also shared updates on several new projects.
"We are grateful for our residents' support for the public safety sales tax ballot question that will fund a new courthouse and coroner facility," he said. "The need for the new courthouse has been reviewed several times over the last 15 years. Detailed design work on the new courthouse to serve our justice needs for at least 75 years will soon be underway and construction is set to begin in 2018. Design of the county's coroner facility will begin later this year."
He also added that Johnson County Wastewater is proceeding with detailed design for the improvements and expansion of the Tomahawk Creek Wastewater Treatment Facility in Leawood.
Eilert finished his remarks with an eye to the future, noting technology as a source of constant change in business and government.
"Thriving in the age of accelerations, that is our challenge," he said. "We can meet those challenges by continuing to support and maintain community assets that provide our opportunities for success."
More than 700 people attended the address and luncheon at the Ritz Charles in Overland Park. The event was hosted by the Shawnee Chamber of Commerce and sponsored by the Johnson County Public Policy Council.
Shawnee representatives who attended the address were lifted by Eilert's optimism.
"It makes you feel good to be part of a community that is so vibrant," said Shawnee Councilman Jeff Vaught. "Great things are happening in Shawnee too right now. Having the support of the county makes it a lot easier for things to happen."
Shawnee City Manager Carol Gonzales agrees.
"The economy is strong and Johnson County has come back from the recession so well," she said. "We're moving at a great pace. It's onward and upward from here."