Lights, camera, action!: Shawnee couple to screen feature film at
KC

Film Festival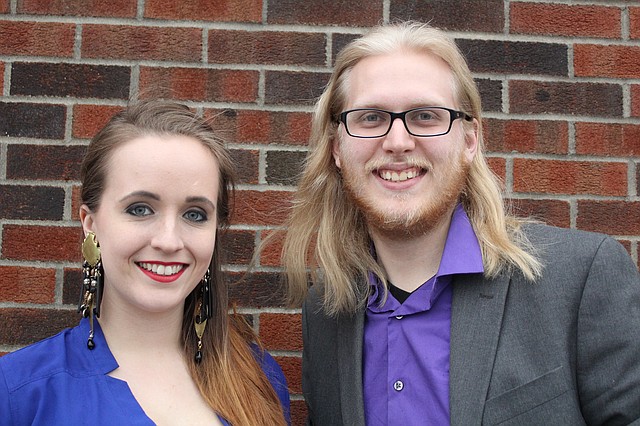 All they had was $2,500, some old film equipment and a passion to never give up.
Now a year later, Shawnee couple Patrick Poe and Lolo Loren are learning if you work hard, dreams really do come true.
This Friday evening, their feature-length film, "William Shakespeare's A Midsummer Night's Dream," will debut at the 2017 Kansas City Film Festival.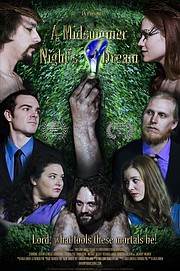 It's a shining moment for the married couple who still can't believe that out of hundreds of submissions, their movie was selected.
It also hits home their steadfast belief that filmmakers really don't have to live on either coast to bring their Hollywood wishes to life.
"In the age of digital filmmaking, it's so accessible and easy to make a movie and show it," said Poe. "We're proof you can make a movie here in Shawnee with very little money and old equipment."
Of course, being an independent filmmaker on a tight budget doesn't come without its mishaps.
Over the course of filming, roles had to be recast. Scenes were shot in the middle of the night in the woods near Baldwin City, to accommodate actors and crewmembers who had full-time jobs.
Oh, and there was even an impromptu sleepover.
One night, a creek near their film set in the woods flooded so badly, they were unable to safely get their equipment and gear across. So, the couple, along with a few other crewmembers, had to sleep on a tarp in a muddy field in 30-some degree weather until the flooding went down.
The couple laughs it off now.
"It was one of the most fun films to make," Poe said. "It was sweaty and terrible and the most tiring thing I've ever done, but I would do it all over again tomorrow if I could."
Their submission to the Kansas City Film Festival was no pet project, however.
Filmmaking is their life.
Poe and Loren, both 24, have been making movies together for five years. Separately, they've each pursued the craft since childhood.
Poe studied film in college, after being in love with the career since he was a kid.
Loren fondly recalls writing plays in elementary school and encouraging neighborhood kids to perform in them.
At eight, she was given her grandfather's old video camera and six years later, she was making comedy shorts for her own YouTube channel.
From ages 14 to 18, she created 70 short films.
"I love seeing something come together from start to finish," Loren said. "Filmmaking is the largest form of storytelling because people see it come to life in the way it was imagined. It's such a great platform if you want to make a positive impact on the world."
The two met through a mutual friend in 2010 when Loren needed help with a film she was putting together for a 48-hour film competition.
Basically, the competition gave aspiring filmmakers 48 hours to create an entire finished product.
Poe, who grew up in Mission, spent a lot of time in Shawnee helping Loren out with her project by adding to the screenplay and editing.
"It was a catastrophe," he said, with a laugh. "One of our cameras broke, so we lost half of our main footage. It was a lot of fun though and it brought us together."
Afterwards, Poe went back to college and Loren continued on her filmmaking journey.
A year later, the two reconnected again to create their first feature-length film, "Intermission," a story about a Broadway director who loses everything and has to move back to her small hometown.
Halfway through production, Poe and Loren started dating.
"I had a crush on her for a while," Poe said, with a smile. "She's driven. When I met her, I was already thinking of giving up a career in this industry, but she inspired me to pursue my dream."
Loren echoed his sentiment.
"I never met anyone who could keep up with me before," she said. "Filmmaking is hard because it's go-go-go and you're always on your feet, but he got it."
The couple got engaged in early 2015 and married in August that same year.
In the past five years, they've made five feature-length films together through their production company, IX Film Productions.
They shoot all over the Kansas City area, with many of the places being right in Shawnee.
Some of their filming locations around town include Old Shawnee Pizza and Shawnee Mission Park.
Plus, they're known to show up at relatives' houses in Shawnee with film equipment in tow.
"There are a lot of good places to shoot a movie around Shawnee," Loren said. "It's a friendly city and people, especially local businesses, are willing to support local filmmakers."
Plus, the Kansas City area filmmaking community continues to strengthen, they said.
The two have a tightknit circle of filmmaking friends in Johnson County.
One of those buddies is Zachary Weaver, a playwright and actor in Overland Park.
He has known the couple for five years and he stars in "William Shakespeare's a Midsummer Night's Dream" as Nick Bottom, the comedic relief of the film.
"I love how ambitious and passionate they both are for making films," he said. "They're always doing projects and completing them, which is really impressive because for a filmmaker, that can be a struggle."
Weaver, 25, told the Dispatch he is excited their film made it into the prestigious Kansas City film fest.
"I was over the moon when I learned the news," he said. "It will be the first time I see a film I helped create on the big screen."
After the festival, Poe and Loren have big plans.
They're currently in the process of editing a feature-length film called, "Zoink" and they're already casting for another film.
The couple is also about to launch a fundraising campaign online for a sci-fi sitcom web series.
For more information on IX Film Productions, visit ixfilmproductions.com.
"William Shakespeare's a Midsummer Night's Dream" is being screened at 9:15 p.m. on Friday at Cinemark Palace on the Plaza, 526 Nichols Rd, Kansas City, Mo.
Tickets can be purchased at the door or online.
For more details about the Kansas City Film Festival, visit kcfilmfest.org.