Two killed, seven others injured in crash with tree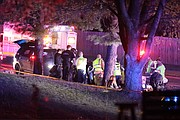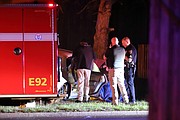 Lenexa — Lenexa Police are investigating after an attempted traffic stop led to a crash that killed two teenagers and left seven others injured.
Master Police Officer Danny Chavez of the Lenexa Police department says, "at approximately 4:35 a.m. a Lenexa patrol officer observed a vehicle traveling in the 15700 block of West 87th Street with its lights off."
"The officer lost sight of the vehicle and turned off his emergency equipment, disregarding the traffic stop," Chavez said. "A short time later the officer came upon the vehicle which was wrecked into a tree at 80th Street and Maurer."
Recorded scanner audio indicates that the officer attempted to make a traffic stop a white Mitsubishi Galant near 85th Street and Maurer Road. The officer can be heard telling his dispatcher that the vehicle is "blacked out," or driving without any lights. The officer reported the Galant was driving "about 80" miles per hour.
Seconds later a supervisor can be heard asking the officer for an update on speeds, the officer replies, "I'm at 50, they're going about 90."
The supervisor then tells the officer to "disregard." The officer found the car crashed with multiple people trapped inside less than a minute later.
The Lenexa Fire Department and Johnson County Med-Act responded to the scene and reported nine people were inside the car. Two were pronounced dead at the scene, three were transported to area hospitals in critical condition and four others had minor injuries.
Police have identified the deceased as Isaiah Stoble, 15, and Angelito X. Espinosa, 13, both of Kansas City, Kansas. The other occupants of the vehicle have not been identified. Chavez says all are between the ages of 13 and 15. All are believed to be from Kansas City, Kansas.
The Lenexa Police Department continues to investigate the circumstances and cause of Sunday's crash.
"This investigation involves the initial responding patrol officers, as well as detectives and traffic crash investigators," Chavez says. "Our thoughts and prayers go out to the family and loved ones of the deceased, as well as to all others involved in this tragic situation."
---
Operation 100 News provides overnight news coverage for the Shawnee Dispatch. Follow on Twitter for real-time updates.