Mill Creek takes fourth place at state Science Olympiad tournament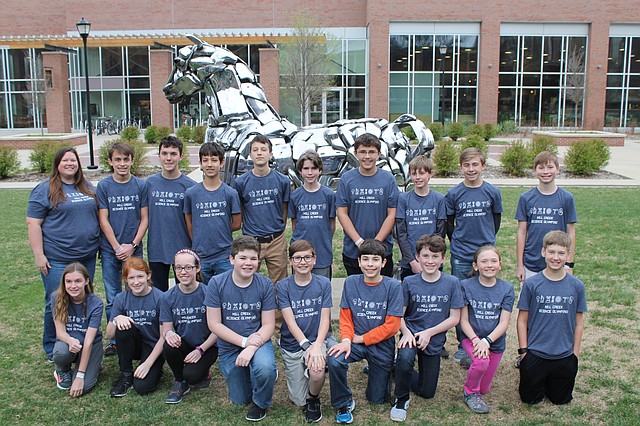 There were bottle rockets to launch, hoverboards to levitate and crime scenes to investigate, among many other exciting challenges, at the 2017 Science Olympiad State Tournament in Wichita.
And when it was all done, the Science Olympiad team from Mill Creek Middle School took home fourth place.
The team also captured four first-place medals, one second-place medal and four thirdplace medals for individual events.
"I've been coaching for five years and this is the best any of my teams have done," said Laurie Heisel, the Mill Creek Science Olympiad coach. "They've been a dream team because they've had the motivation and ambition to learn. They've spent hours upon hours testing devices for each event."
The win was a great finish for the school year, but also a bittersweet end to the season.
After all, the majority of the team will be moving on to high school next year.
Currently, there are 10 eighth-graders on the 18-member team.
"The eighth-graders started strong as sixth- graders and blossomed and really impressed me with what they know," Heisel said. "I hope their success this year motivates more students to join next year, so we can keep the ball rolling."
Her younger students agree there will be big shoes to fill next year.
While sitting in Heisel's science classroom last week, they told the Dispatch they were thrilled to have ended the season on such a high note.
"I love competing with these guys and messing around with them and just having fun," said Kyle Smith, an eighth-grader from Shawnee. "I think our mentality was different this year because we worked more as a team, rather than individually. We encouraged each other to do better."
He said that although competing at state was an honor, the past three years in Science Olympiad have been the time of his life, especially because his twin brother, Brent, is also on the team.
"One of my favorite things about this year was competing against my brother and earning more medals than him," he said, grinning, while Brent jokingly rolled his eyes.
Theirs wasn't the only sibling rivalry on the team this year.
Eli LeBar, a sixth-grader from Shawnee, told the Dispatch he joined Science Olympiad because his older brother, Luke, made it sound cool.
"I really wanted to outdo him," Eli said enthusiastically, while his teammates laughed along with him.
Both LeBar brothers did really well in the state competition.
Eli placed first with a teammate in the Wright Stuff challenge, in which students make, test and fly an airplane powered by a twisted rubber band.
Luke, an eighth-grader, placed second with a teammate in Road Scholar, which focuses on maps, and he placed third in Ecology.
"This is a group of great kids," Luke said. "They're smart and intelligent and it's great to compete with them."
Although several of the students scored impressively at the state tournament, it wasn't easy.
After all, they were one of 29 teams.
The competition was fierce.
One of the highest achievers was 14-year-old Alex Whipple of Lenexa.
He earned first place for Mission Possible, an event that requires the construction of a Rube Goldberg-type device.
He also took first place with a teammate in Reach for the Stars, which focuses on space and third with a teammate for Scrambler, which involves designing and building a device to transport an egg.
"I was just ecstatic because I didn't think I would place," said Alex, an eighth-grader. "The competition was nerve wracking. You've got to be on your game, which is especially difficult if your hands are sweating."
The students were pleased their hard work paid off.
"I'm proud of how we did," said Maddie Anderson, a seventh-grader from Shawnee, whose team took third in Crime Busters. "We worked together after school and we learned things you wouldn't normally learn elsewhere."
In Crime Busters, students are given a crime scene with physical evidence to analyze, such as fingerprints and tire tracks.
Maddie is excited to return to Science Olympiad next year.
She's positive the next team will keep the momentum going.
In addition to earning fourth at the state competition this year, the Mill Creek Science Olympiad Team placed second in the Northeast Kansas Regional Tournament, second in the Pembroke Hill Invitational and second in the Kearney Invitational.
Here is a list of all the students who placed at the state competition: Avery Hantla, first in Bottle Rocket, third in Hovercraft and third in Scrambler; Alex Whipple, first in Mission Possible, first in Reach for the Stars, and third in Scrambler; Connor McCall, first in Reach for the Stars; Eli LeBar, first in Wright Stuff; Sophia Livingston, first in Wright Stuff; Luke LeBar, second in Road Scholar and third in Ecology; Luke Facinelli, second in Road Scholar; Maddie Anderson and Audrey Zade, third in Crime Busters; Austin Mills, third in Hovercraft and third in Towers and Kyle Smith, third in Towers.