Shine bright like a Diamond: De Soto dance team wins second national title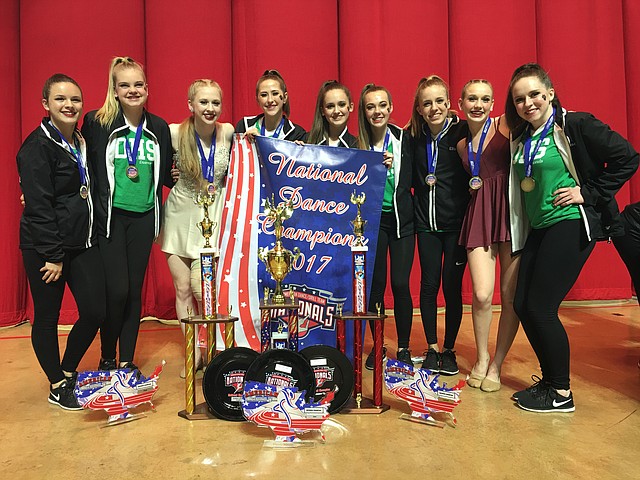 The De Soto Diamonds dance team is the national champion for the second year in row.
Last month, the team, which consists of nine De Soto High School students, won the national title for the extra-small division.
It won the same title last year.
Individual titles were also snagged at the competition, which took place in Denton, Texas.
The Diamonds are coached by McKenzi Crow and Emily Thayer.
"I am super proud of them," Crow said. "This year, over half the team was new and they have done an amazing job."
To qualify for the national competition, the team was earlier named in the Circle of Winners at the Kansas Spectacular, where they competed against dance teams from schools all over the state.
At nationals, the girls were thrilled to learn they were the big winners.
"It still feels very surreal," said Charisa Dodd, captain of the Diamonds. "We couldn't believe that we were even going back to the national competition, so to win it again was awesome."
At nationals, the team competed together in the lyrical, jazz and pom categories.
Sophomore Olivia Mills was named the solo national champion.
Junior Morgan Marti was the first runner-up in the same category.
Jolie Dobosz and Claire Kennard, freshmen, were the second place duet winners.
Mills and Dodd, junior, were the third place duet winners.
Dodd, who has been on the dance team for the past three years, said a lot of hard work went into the competition.
"Some people might say dance isn't a sport, but we put in a lot of hours and it's a lot of physical activity," she said.
The team is a close-knit group, she adds.
"We motivated each other a lot to improve our techniques and turns," she said. "I love getting to dance with my friends and cheer on our school."
Crow agreed the feat wasn't easy..
Being on the dance team is an 11-month commitment that includes grueling early morning and late evening practices.
The team performs at football and basketball games. Competitions start in January.
"I try to emphasize to them that it's not all about awards, it's about having fun and doing their best," Crow said.
But being an extra-small team is challenging.
"When you're this small, there is no hiding anything," she said. "The team has to dance as one because everyone can see your every move."
While the dance season has already come to an end, the new one is quickly picking up.
Tryouts for next year's team start next month.
"I'm excited for next year and I'm a little nervous," said Crow, with a laugh. "No team is ever the same, even if you have the same girls."
More like this story