Upscale western Shawnee home to be showcased on prestigious tour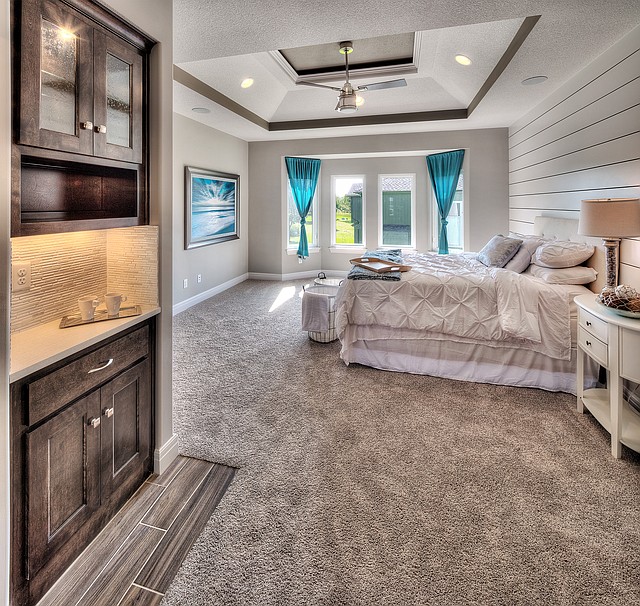 The hottest home designs in Kansas City will be on full display starting this weekend.
The Spring Parade of Homes tour will be held Saturday through May 7 and it will feature 381 homes by 112 builders in seven counties across the metro area.
One of those homes is an attractive two-story model in the picturesque western Shawnee subdivision, Preserve at Clear Creek.
The model home features four bedrooms and three-and-a-half baths.
But it's the little details which make it a stand-out.
When Lan and Kevin Stallings, of Dreams & Design Building, set out to create the house, they wanted to embrace the tranquility of the neighborhood, while also offering the latest trends.
The Shawnee home, 7817 Green St., doesn't disappoint.
Contemporary and rustic, the nearly 3,000 sq. ft. house features an open layout and a plethora of natural lighting.
It also has upscale decor and custom-designed cabinetry, granite countertops in the kitchen, a grand circular staircase, and espresso-colored wood flooring.
The kitchen boasts a trendy wavy 3D backsplash tile, a walk-in pantry with motion lighting and an attached grocery door leading to the garage and a wine fridge.
The luxurious master suite upstairs features a shiplap accent wall, which is very popular right now, along with a coffee bar.
The large master bath features two shower heads, a makeup desk and it provides access to an enormous walk-in closet with a built-in armoire, shoe racks and cabinetry.
The basement of the model is unfinished, however.
"Basements are so personal and so specific to each family," said Lan Stallings. "We want people to envision what they want out of it. Maybe a rec room or a mother-in-law suite."
The home, estimated to cost $484,700, also showcases the latest in energy-efficient building materials, insulation and AC system.
The house is also placed strategically facing north, so the sun won't soak up the home.
"Our design helps the environment and it also helps the homeowners save on utility bills," said Lan.
Being energy-efficient has been important to the company since it was first founded by Lan's husband Kevin nearly 25 years ago.
In the past three decades, Dreams & Design Building has built hundreds of homes all over the Kansas City area, averaging around 24 homes per year.
Lan's role with the Lee's Summit-based company is to help forecast trends and research the latest home designs.
She said the upcoming Parade of Homes tour is the perfect way to highlight those trends and designs.
The event offers exposures to builders and allows potential homeowners to see what's popular on the market, she pointed out.
"People can see what they like and don't like," she said. "It's fun showing them what they can do. Because there are so many exciting things they don't even know exist."
Dreams & Design Building has five homes in the parade this year. Besides Shawnee, the Stallings are showcasing models in Blue Spring and Oak Grove as well.
Lan anticipates the homes tour will be very popular this year, as it is now a tight market.
"The housing demand keeps growing as more people are employed at places like Garmin and Cerner," she said. "With a huge number of people moving to the Kansas City area, there is a lot of competition for both builders and buyers."
And western Shawnee is one of the hottest spots in Johnson County, she added.
"It's a little jewel out here because you're part of an existing community, but it's affordable and peaceful," she said. "That's what a lot of people want."
About the homes tour
Presented by the Home Builders Association of Greater Kansas City (HBA), the Kansas City Parade is the second largest in the United States.
Since 1947, millions of greater Kansas City residents and visitors have enjoyed viewing the latest in home innovations, styles and decorating, and this year's spring parade will be no different as it showcases the area's premier new homes, home builders and communities.
All homes will be open daily from 11:00 a.m. to 6:00 p.m. and admission is free.
Home prices range from $165,000 to nearly $1.6 million.
Free Parade Guide books will be available for pickup at the HBA, near I-435 and Holmes Road, and at all Parade homes during the dates of the event.
In addition, an online home search is available at KCParadeofHomes.com along with a mobile website feature to map a tour online.
Homes can be searched by price, location, builder, floor plan, subdivision and school district.
Trends on this year's Parade include four-car garages and pocket doors underneath staircases to create clubhouse-type play areas for children. And, similar to the last Parade, open concepts on the main floor abound.
Additionally, the HBA recently announced a new partnership with Harvesters.
To commemorate the 55th anniversary of the spring parade, the association is aiming to raise 55,000 meals for area kids this summer.
From now until May 7, the HBA will be accepting non-perishable food items at its headquarters, 600 E 103rd St.,, Kansas City.