Walton scores game-winner in De Soto's double-
OT

over Blue Valley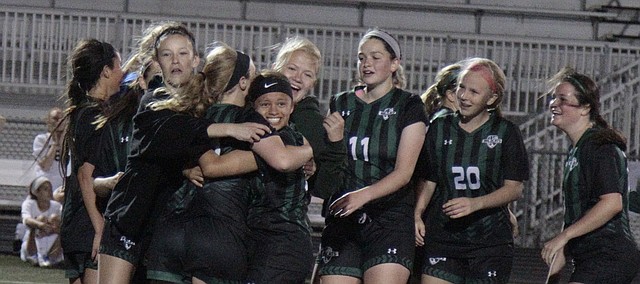 Stilwell — De Soto junior Caitlin Walton was the first to admit that she was a little bit nervous when she got the chance to score the golden goal against Blue Valley on Wednesday, but the anxiety quickly turned into jubilation after she pushed the ball past Tigers goalie Lexi Palacio with 2:10 left in double-overtime.
Walton's goal not only gave the Wildcats a 1-0 win, but kept De Soto unbeaten at 9-0-1.
"I was kind of just freaking out a little, and hoping that I wouldn't miss it and that I wasn't offside," Walton said. "It was kind of crazy."
De Soto coach Jesse Smith had envisioned the Wildcats scoring like they did on Walton's game-winner, and he could not think of a better time for his team to put the play into motion. After a long throw-in, senior midfielder Madison Plake sent the ball into the box to set up Walton's late-game heroics.
"It's what we've drawn up," Smith said. "We've yet to really execute it, so what a better time to do that than tonight."
While Walton was mobbed by her teammates after finding the back of the net, she realized that she wouldn't have been in that situation had it not been for De Soto junior goalkeeper Taylor Rogers and the De Soto back line. Rogers made eight saves to notch her seventh shutout of the season.
"Honestly, she (Rogers) has done an amazing job, but she couldn't do it without the back line, too, of course," Walton said. "She did a great job tonight. She always does."
The Wildcats back line — which consisted of seniors Aly Hargrove, Tarah Phongsavath, Carmen Rush and junior Alex Schemmel for the majority of the match — made sure that most of the Tigers' shots on goal were contested. But when Blue Valley did get its clean shots off against Rogers, the De Soto keeper rose to the occasion. Rogers made back-to-back saves on shots that were on the fringe on the 6-yard box in the first half, and made a 1-v.-1 save with 12 minutes left in the second half to keep the match scoreless.
"She had a couple of incredible saves. Not just one save, but it's a save and then a follow-up save," said Smith of Rogers, who has only allowed three goals through 10 matches. "Without her, obviously, the game wouldn't have been close at all. Like I said before, she comes up big in big games and this is her biggest game to date."
The Wildcats have now won nine straight matches after playing Shawnee Mission Northwest to a 1-1 draw in their season opener. Smith felt that the match against Blue Valley came at the perfect time to see where the Wildcats were at after handling most of their Frontier League opponents with ease.
"We came in with what I like to think was a pretty relaxed attitude. They were such a good team. I would love to sit here and say, 'Yeah, we out-played them,' and this and that, but no," Smith said. "I think we were pretty lucky to stay in the game with some saves from Taylor. They're the best team we've played by far to date. We kind of had this game circled to see where we matched up at, so we're really happy."
The overtime win over Blue Valley was De Soto's second of the season. The Wildcats' other win in extra time came against Spring Hill on April 10, when senior Tanith Beal clinched a 1-0 victory for De Soto. The Wildcats will look to complete the season sweep of the Broncos at 6 p.m. Monday at Spring Hill.