Robotics team heads to world championship
Mill Valley, De Soto high school students set to compete this week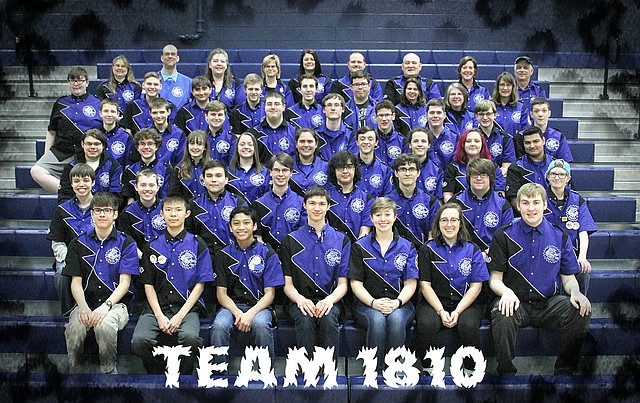 China. Brazil. Australia.
Those are just a few countries Mill Valley and De Soto high school robotics students will compete against this week during the FIRST championship in St. Louis.
More than 600 teams will compete in the international competition this year.
The Jaguar team, which features students from both high schools, is only one of five Kansas teams participating.
The trip to St. Louis comes on the coattails of another big success: earning 9th out of 60 teams at the Greater Kansas City Regional Competition last month.
The Jaguar robotics team last made it to the FIRST championship four years ago, which means all the students on this year's team will be heading there for the first time.
"It's great to make it this far, but it's definitely nerve-wracking to compete against teams from around the world," said Jacob Tiehen, a Mill Valley senior. "These are the best of the best."
Making it to any competition, much less the international one, isn't an easy feat.
Each year each robotics team is given six weeks to design, build and troubleshoot a robot to fit a specific game, one that usually involves the robot picking up and dropping objects.
Earlier this year, during that slotted time, it only took the Jaguars three weeks to build their robot; the rest of the time was spent perfecting it.
"This year we had a lot of time to practice and that definitely played a part in our doing so well," said Taylor Barth, a Mill Valley senior, who is also president of the team. "A lot of math, research, detail went into figuring an efficient design."
Tiehen told the Dispatch that ironing out all the fine details this year helped the team succeed.
"It can be time-consuming and stressful, which gives us a lot of appreciation for engineers who design mechanisms for a living," he said. "In the real world, you can't make big mistakes when you're building something."
The end result for the Jaguars was a sleek copper-colored robot the team affectionately calls Lightning McSteam, a nod to the competition's steampunk theme this year.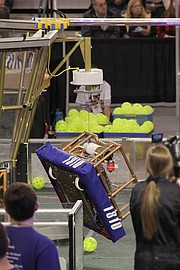 While going to the world championship is a big deal, robotics as a whole is much more than shiny trophies and snazzy robots, the students insist.
It's about friendship and leadership and teamwork.
Plus, there are many robotics team members who never even touch the robot.
The team includes graphic designers, social media aficionados, and artists.
Quinn Sheehan, a Mill Valley senior, helps handle the team's marketing, for instance.
"I was never into engineering but I like the creative side of it," he said. "I joined to make friends and experience positive energy and be around fun-loving people. Being in this group has made me realize engineering is pretty cool."
There are currently 45 students on the Jaguar team.
And surprisingly, they're a tightknit group, despite their large size.
"Well, for six weeks, we saw each other more than our own families, so we kind of have to be friends," joked Barth.
Her outgoing demeanor is a direct result of being on the robotics team.
Barth admits a few years ago, she was a very shy freshman.
Now, her teammates tease her that they can't get her to stop talking.
Barsh blushes at the jests.
Her story is a common one, however.
Gary Hannah, a mechanical engineer from Shawnee, said in the nine years he has mentored the Jaguar robotics team, he has seen several students blossom.
"People with creative and mechanical minds tend to be more introverted," he said. "They're not social butterflies. But by the second or third year in robotics, they're surrounded by people just like them and they come out of their shell."
Hannah became the mentor of the team in 2008, when his son, Ryan joined.
After Ryan graduated, Hannah decided he wanted to stay.
"Some people play golf, this is what I do," he said, with a grin. "I get to hang out with fun people and watch them make robots. It doesn't get better than this."
He says Ryan, who lives in Utah, still keeps up with the team each year and watches each competition online.
Former Jaguar robotics member Sarah Soriano, a 2016 Mill Valley graduate, also keeps up with the team.
Soriano, who is majoring in industrial design at the University of Kansas, is also acting as a mentor this year.
She drove to Mill Valley High School every weekend during the six-week build season to offer the students guidance.
"I love seeing how they're doing and I'm very proud of them," she said. "The robot this year is one of my favorites."
She went to the international competition her freshman year, so she understands their excitement.
Her advice to the robotics kids?
"Wear good shoes," she said, with a laugh. "You're going to be walking from building to building with that robot. You're going to be on your feet for 12 hours."
The Jaguars are looking forward to that organized chaos.
They're especially eager to meet other teams and make friends with like-minded people from around the world.
And at the end of the day, they're simply excited to do what they love.
"I just like building things," said Jacob Howe, a Mill Valley freshman. "I think it's amazing to see things come to life, from start to finish."
To keep up with the Jaguar Robotics team or watch the world championship online, visit bluealliance.com.