Police investigating string of east Shawnee burglaries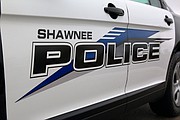 Shawnee Police are asking the public to remain alert after a series of home burglaries in the eastern part of the city.
Major Dan Tennis says police have been made aware of five burglaries over the last three weeks.
"The area it covers is generally 64th Street south to 75th, a few blocks east of Nieman to a few blocks west of Quivira," Tennis said.
All of the burglaries have occurred during the daytime with either front or rear doors being kicked in.
Police are asking residents to keep an eye out in neighborhoods and report any suspicious vehicles or people.
Major Tennis says police believe the same suspect to be involved in all of these cases. "We have no indication this is a group of people."
Anyone with information is asked to call Shawnee Police at 913-631-2150 or the TIPS Hotline at 816-474-8477.
---
Operation 100 News provides overnight news coverage for the Shawnee Dispatch. Follow on Twitter for real-time updates.