Shawnee takes the stage
Partnership between B&B Theatres and Music Theatre Kansas City to bring live theater to western Johnson County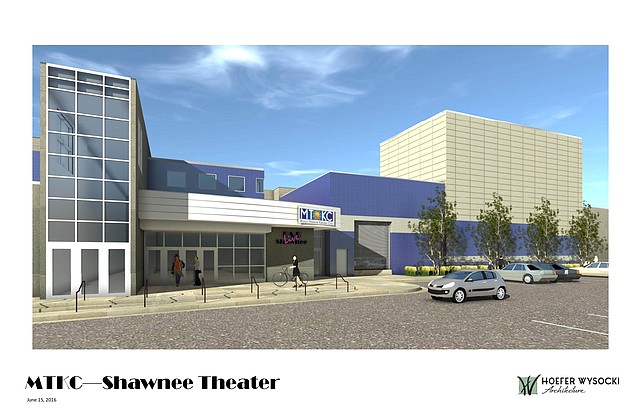 Live theater is coming to Shawnee.
Actually, it's coming to a movie theater.
Partnering with B&B Theatres, Music Theatre Kansas City is renovating a large 500-seat movie theater in the B&B Shawnee 18 movie complex, which will one day include a 1,000 square-foot stage, theater lighting, fly space, a rehearsal hall, dressing rooms and office space.
The facility, called B&B Live, will be the first and only cultural arts center in western Johnson County.
Representatives from both MTKC and B&B Theaters presented details of their unique partnership at the Business After Hours event hosted by the Shawnee Chamber of Commerce on Thursday evening.
"To our knowledge, this concept of having a live theater in a movie theater has never been done before in the country," said Bob Bagby, president of B&B Theaters. "They're (MTKC) a non-profit, so they would otherwise have to build a building and a parking lot and restrooms. With this partnership, all of that is already provided for them, so they can focus those funds on their kids."
For the past 25 years, MTKC has rented theater space, forcing staff and volunteers to transport sound equipment, sets and costumes, while also training new staff at each venue.
Lately, they've been finding venues in Kansas City harder and harder to reserve.
Cary Danielson Pandzik, who founded the professional theater and training group in 1991, said she has been dreaming of a permanent home for MTKC for years.
"I'm a proud resident of Shawnee," she said. "We love the city and it's a special thing to have a theater to call home, especially one down the street from my own home."
She pointed out that the venue will benefit Shawnee as a city, and all theater-loving residents in the surrounding area.
"When you go to live theater in Kansas City, many times you have to go downtown because there are so very few theaters in Johnson County," Pandzik said. "Many people will want to come here for live theater. It will be much more convenient for a lot of people."
During the past 25 years, MTKC has had a significant impact in the Kansas City community and on the showbiz scene on each coast.
The organization offers summer camps and training for young people interested in musical theater. It also presents high-quality shows with some of the best young talent in the Midwest.
Many alumni often go on to perform on Broadway or even become stars in movies and television shows.
To show the Shawnee business community a sample of what MTKC is about, the organization's SunRaise choir, a community-service-driven high school ensemble, performed at the event last week.
Pandzik's daughter, Julie Danielson, who is the artistic director for MTKC, called the organization a safe haven for kids.
Danielson got her start in musicals at a very young age and by the time she graduated high school, she had already starred in 51 shows.
"MTKC has a legacy of acceptance and safety for young people, which is extremely important," she said. "We're a big family."
So far, MTKC has raised around a half- million dollars. But it's a small percentage of what they actually need for a full renovation.
The projected cost for the entire project is estimated at $3 million. So, they're going to start on a smaller scale.
Tentatively, this summer, construction will begin on a stage and a sound and lighting system, which they hope to have completed by fall.
Once the full funds are raised, they will go forward with the larger scale renovation.
Nancy Schnegelberger, the campaign chair for the project and board member, said she's hoping the initial stage of construction will be completed in time for MTKC's Senior Showcase, in which high school juniors and seniors perform for college representatives.
The showcase is a very big deal in Kansas City, as 15 to 20 colleges show up to see the latest metro area talent.
Fellow executive board member Jeff Bartley said he's excited about the possibilities for the venue beyond MTKC performances.
"It could be used for live music or seminars or even graduations," he said.
According to MTKC, several community groups have already expressed interest in utilizing the new facility. They include the Youth Symphony of Kansas City, Spinning Tree Theatre, and numerous dance studios.
Bartley also thinks the live theater will bring a lot of life to the movie theater.
"I hope the word spreads," he said. "In fact, I think more movie theaters will start doing this."
As for Shawnee representatives, the feeling of excitement is mutual.
Having a live theater in Shawnee, attached to the newly renovated B&B Shawnee 18 theater, will be a win-win for everyone, they concur.
"The partnership between B&B Theatres Shawnee 18 and MTKC is ideal," said Shawnee Chamber President & CEO Linda Leeper. "MTKC will have a permanent home for their productions, and overall this will have a positive economic impact for businesses in Shawnee."
More like this story