Teenage brothers start clothing company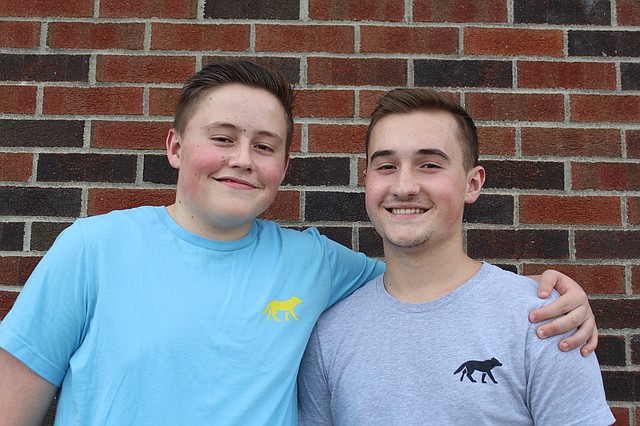 McCalister and Harrison Hall have been coming up with business ideas since they were kids.
This year, they turned one of those dreams into a reality.
The Shawnee teens recently launched Rolling Hills Clothing Co., an online shop featuring their signature-branded preppy wear.
Their logo is a wolf.
Both boys are fans of labels such as Vineyard Vines and Southern Tide.
Vineyard Vines, based out of the northeast, and Southern Tide, based out of the south, boast casual and comfortable preppy clothing in bright spring colors.
But with a whale and a fish, as their logos, respectively, the Hall brothers felt like both companies were out of place in the Midwest.
"There's not a lot of preppy clothing representing this distinct area," said Harrison, 19. "Vineyard Vines' logo is a whale, but people who don't live on the coast can't really relate because it's very beachy."
With both brands being popular in the Midwest, especially among college students, the brothers felt there was a definite market for rustic preppy clothing in the area.
Plus, Kansas City hometown pride has skyrocketed in the past few years, with the Royals still basking in the World Series glow from 2015 and numerous websites deeming the area as one of the hottest places for millennials to live.
"We need a clothing company to represent the Midwest, especially Kansas City because it's becoming such a hip city," said McCalister, 17.
The boys put their plan into motion in February and their website launched on April 1.
They currently sell t-shirts, long-sleeve shirts, hats and this summer, they plan to expand to polos.
To market their collection, they reached out to models on Instagram, with thousands of followers, who wore their clothing and offered discounts.
They also marketed heavily on Facebook and Twitter.
While most of their orders so far have been from family and friends, some of their customers have been from across the nation, and even the world.
They've currently earned more than $300 in sales.
Both of them have quickly learned, however, that running a business is not easy, especially when you are a full-time student.
Harrison is a business major at the University of Kansas; McCalister is a junior at Rockhurst High School in Kansas City, Mo.
For Harrison, the real-life experience of starting a business has helped him with his classes. After all, he's seeing his textbooks come to life right before his eyes.
But there are some things business school hasn't taught him yet, which he's having to learn on his own.
"Starting a company is not cheap because it really does take money to make money," he said. "Our biggest problem was not having enough money to keep up with the orders coming in."
Both brothers funded the clothing company with their own savings.
For McCalister, he's helping to run the business while juggling high school, studying and a part-time job at McAlister's Deli.
While it has been a struggle, he has really impressed his older brother with his dedication and responsibility.
"I give him tasks and he gets it done," said Harrison, who often drives home to Shawnee on weekends or Skypes his brother to conduct business meetings.
McCalister hopes to follow his brother's footsteps and study business in college too, but he's undecided on where he wants to go.
The professionalism both brothers have mustered has also impressed their father, Shawn Hall.
"I'm excited because it's going to be a great learning experience for them," he said. "I'm proud they took the initiative, but I'm not surprised. They've always had (business) ideas up their sleeve and I've always encouraged them to follow it wherever it goes."
He pointed out that entrepreneurship is in their blood; their grandfather started a commercial flooring company 30 years ago, which Shawn now runs.
Although Rolling Hills has only been in existence less than a month, the Hall brothers have big plans for it.
They hope to one day expand to ladies summer wear, such as rompers and dresses. They also want to create themed logos for the Fourth of July and Veterans Day.
The possibilities, they said, are endless.
"I'm a dreamer," Harrison said. 'I love thinking about the future. Short term, I'd love to learn enough money to get us through college. I'd love to have a store on the Plaza, like maybe we could take over the Vineyard Vines store."
To view their clothing, visit rollinghillsclothing.com.
More like this story